Steel industry fears Brexit taking away focus from issues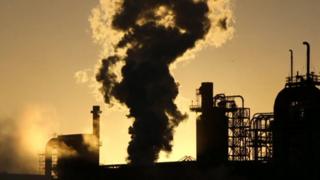 Steel industry figures fear the sector is being neglected, with an "all-consuming focus" on Brexit by government.
More than 100 workers, industry experts and politicians are at a conference in Redcar, Teesside.
Senior executives from firms with a strong Welsh presence, including Tata, Liberty and Celsa, are attending.
The UK government hopes to announce a new steel sector deal soon.
The Community union believes a new "golden age of steelmaking" is still possible if there is a commitment to overcoming remaining challenges.
Jon Bolton, chief executive of Liberty Steel, which employs 3,000 workers over 11 UK sites, said it was "quite difficult at the moment to get attention".
He said an "all-consuming focus on Brexit and its impact" meant "some of the major components of [the UK] economy going forward which need attention now are being neglected".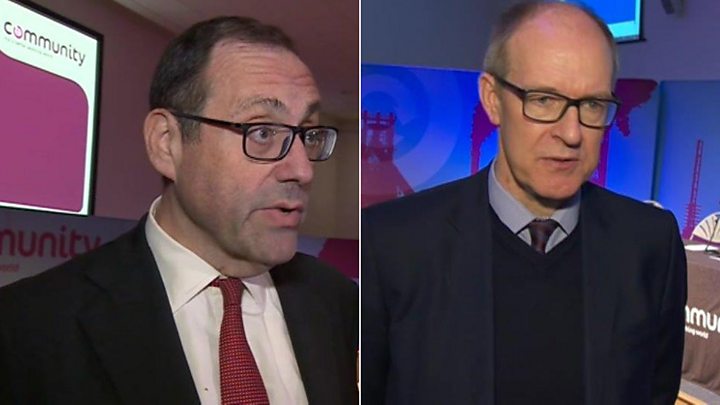 Market conditions have improved for steel - the value of the pound has fallen making it cheaper to export steel from the UK, while EU tariffs have been applied to Chinese and Russian steel.
Mr Bolton said there still needed to be a level playing field.
The UK government said it has been working to help protect the industry and build it, including on procurement.
Speaking at the conference, Business Minister Richard Harrington MP said the industry needed investment and spending on research and development.
He said: "It's an important sector and I hope as discussions continue, we're going to be quite soon announcing a sector deal."
The event is being held in the shadow of the old SSI steelworks which closed in 2015.
The conference is reflecting on events in recent years, which led to Tata putting its UK operations up for sale in 2016, controversy over cheap Chinese imports and a £10bn investment deal being offered.
Last year brought the prospects of a Tata merger and a deal over pensions in exchange for the investment.
UK crude steel production is viewed as stable by the industry, although global production increased by 5% in 2017.
Industry body UK Steel's director Gareth Stace said steel needed to thrive and not just survive, helping to feed into post-Brexit manufacturing.
"Without competitive energy prices now, it means we can't move forward, we might just stay as a stagnated sector that is just waiting for the next, looming global steel crisis," he said.
"Although we're not using the word 'crisis' we're using the words 'not out of the woods yet'".
Community has stressed that the long-term future of the industry, which employs about 14,000 workers in the UK, is still a long way from being secured.
Ahead of the conference, it said "steel can be the productive, hi-tech foundation of Britain's post-Brexit manufacturing sector".
One recent UK government study said there is £3.8bn a year to be tapped into by UK steel producers by 2030 - more than half in demand from construction - if the right investment and measures are in place and if Brexit is successful.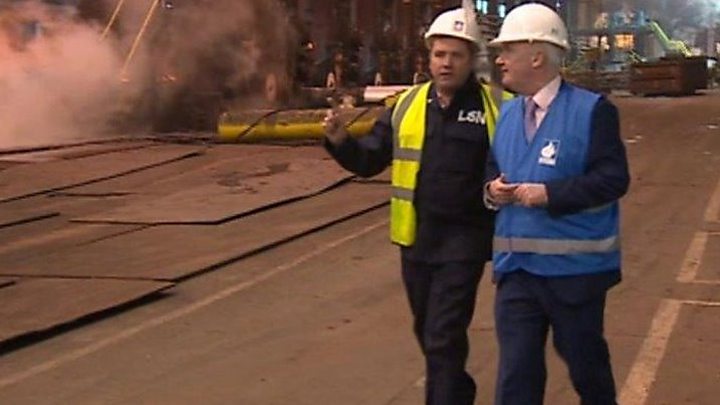 One of the Welsh steelworkers at the summit in Redcar is Steve Dash, who has seen plenty of ups and downs after more than 30 years in the industry.
He was at Corus in Ebbw Vale, Blaenau Gwent until its closure, then worked at Alphasteel in Newport for four years before being made redundant again in 2009.
Now he is back under new owners Liberty Steel, working in quality control and as a workers' representative.
"There are a lot of economic issues relating to the steel industry," he said.
"This is about keeping steel on the political agenda and formulating a cohesive strategy".
The European Steel Federation's latest economic report this week said EU steel demand in 2018 and 2019 was "positive" but expansion would be at a moderate pace.
It also looked at the potential impact of Brexit on demand for steel - predicting that it could "heavily impact" construction activity in the UK, and be a "key risk" to the UK automotive market which is expected "to remain stuck in low gear".
Meanwhile, back in south Wales, the Steel and Metals Institute (SaMI) was officially opened on Thursday at Swansea University, a forerunner for a new UK National Steel Innovation Centre.
Tata is providing 45 research and development staff to work alongside 20 university researchers on new products and processes to ensure the wider industry and supply chain is "fit for the 21st Century".