Social media criticism 'risks undermining NHS'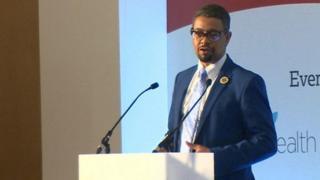 "Reactionary criticism" about the health service, especially on social media, risks undermining the NHS, the health minister has said.
Vaughan Gething warned in a speech that it might put off young people from pursuing health careers.
He has also announced an extra £100m for NHS Wales over the next two years will go on changing the way health and social care are provided.
The cash will be targeted to deliver care closer to people's homes.
The additional funding - allocated in December's budget - will also be used to promote more joined-up working and to "transform" hospitals.
Mr Gething, in a speech to the Welsh NHS Confederations conference, warned "reactionary criticism" risks undermining the NHS's foundations.
While acknowledging services had been tested "to their limit" as a result of winter pressures - he claimed some of the media coverage, including "particularly reactionary social media output, sometimes from people working within the NHS," was creating a "febrile atmosphere".
That is itself putting the NHS's future at risk, Mr Gething argued.
He said there was a "real danger of a self-fulfilling prophecy, where reactionary criticism undermines the foundations of our positively public NHS".
Mr Gething said a "skewed picture" of the NHS was being painted for the public was not one that encouraged children to become the next generation of health and care professionals.
The latest Ucas figures on applications to health professional training showed a worrying decline, he said.
"This is not a politician burying his head in the sand hoping that 'bad news' goes away," he said.
"I have publicly acknowledged the pressures the service continues to face. However, if we cannot debate the future of social care with more honesty then we will fail in our duty. We will fail to secure the future of a high quality health and social care system that every community in Wales deserves."
But Conservative health spokeswoman Angela Burns said: "Mr Gething should try listening to people's concerns, instead of trying to silence them. Ignoring criticism is what really undermines our health service."
Dr David Bailey, chairman of the BMA's Welsh council, said the public had "very real concerns" about the NHS across the UK and it was important they were listened to and acted upon.
"That said, we acknowledge the cabinet secretary's concerns," he added.
"We have a unique health service and whilst there's no hiding that it's currently facing enormous pressures in both primary and secondary care, we continue to hear from doctors who, despite these pressures, report that they love their job.
"And it is this message we want to deliver to the future generation of Welsh doctors."
Mr Gething said that the £100m transformation fund would be used specifically to "drive forward" the changes recommended by a review panel.
The focus initially will be on financing a "small number of programmes" that have the greatest impact and which can be adopted across Wales.
An independent panel of experts, last month, called for an urgent "revolution" in the way health and care are delivered in Wales including a shift of resources from hospitals into communities.
However, Mr Gething warned he would not allow health boards to use the extra money to plug gaps in their budgets.
Those that perform poorly will also have less freedom in how to spend it.
Echoing comments he made in a BBC Wales interview last week, the health secretary also warned the challenges facing health and care had grown to such a degree that "tinkering around the margins is no longer enough" and he will call for "bold changes".
He said there was a need to work together "without delay, to have the greatest impact".
Bernadine Rees, chairwoman of the Welsh NHS Confederations, welcomed the announcement, adding: "We need to be bold. It is an opportunity we cannot afford to waste".