Kizzy Crawford: Why feminism is so important to singer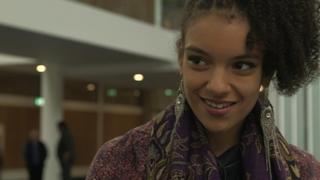 As the suffragettes are remembered 100 years on from the Representation of the People Act 1918 - which gave women the vote for the very first time - singer Kizzy Crawford, 21, from Merthyr Tydfil, who has written about gender equality in her songs, reflects on what still needs to change.
I was raised by a single mother who is a feminist, she worked full time whilst also bringing up me, my three sisters and our brother.
We were definitely raised as feminists, my brother too.
She used to point things out when we were watching TV, reading books or watching the news and make us aware of the inequalities and how women are represented.
It's only recently that I've realised that in doing this, she was teaching us about inequality and pointing out the importance of resisting this.
I was brought up to be conscious of how women are portrayed and treated and to fight against this when it was a stereotype. I think it is important for young girls to understand how our ancestors have paved the way for us to be where we are today.
The actions of the suffragettes are unbelievable to women like myself, the way they fought for what they believed in and the lengths they went to are amazing. But even after they led the way by campaigning for the vote, there is still so much that needs to be done.
My grandmother gave up her job when she was married and didn't have her own bank account or mortgage.
But I have been brought up to believe women and mothers can achieve anything, my life is so different to how my grandmother's was.
I'm fortunate because my music career is my full-time job, which allows me to earn enough money to support myself and my home - 100 years ago I would never have been able to get where I am now.
My mum often reminds me of how lucky I am to be independent and it is thanks to the Suffragettes that we are in a more equal world, and although we have still got quite a lot of work to do to achieve equality in the media, politics and day-to-day life, we are moving forward.
It is really important that we remember those women who changed things for us and the suffering they went through. There are many forgotten names, but we need to celebrate them.
I'm also pleased to see that voting rights in some Welsh elections will be opened up to those who are 16 and over - I think it's important that young people have a say, especially when it comes to politics, because they are the future.
There have been times in my career when I feel I've been treated differently because I'm a woman, I have been told to wear a particular sort of clothing because they say it is better for my shape, or having to wear make-up for certain things when I wouldn't always wear it.
It should be up to the individual to decide what they want to wear and not hinge on what gender they are. I can't imagine a man being told to do these things to the same extent as women often are.
It saddens me that in our society, women are still being treated differently and it is something I want to see change and help change through my music.
There is still discrimination against women, there is still sexual harassment and assault but I feel encouraged by the 'Me Too' campaign and the fact that it has drawn attention to this issue, it has given women a voice and the confidence to speak up and social media has given a platform for them to speak out in a way they haven't been able to before.
Although we've come a long way thanks to the work of the wonderful, strong and inspiring Suffragettes, we do still have a long way to go.
We need to speak to our brothers, husbands and male friends to raise more awareness and work with them in order to bring greater change to our society as a whole.
Kizzy Crawford will be on Wales Live on BBC One Wales at 22:30 GMT on 7 February and on iPlayer