Hywel Dda campaign to improve lung cancer diagnoses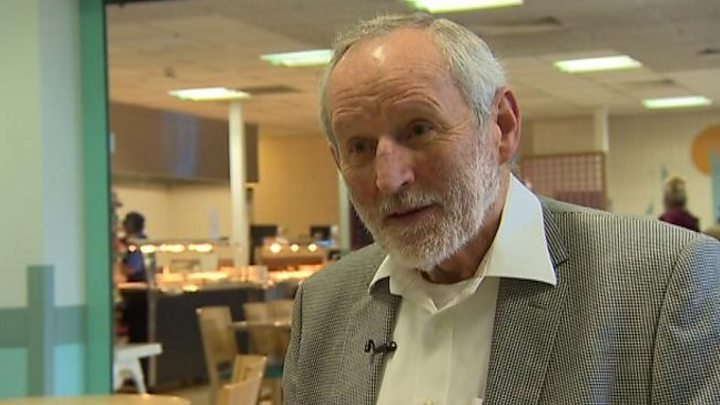 A lung cancer awareness campaign has been launched in west Wales after it emerged patients there wait longer before getting their symptoms checked.
According to Public Health Wales, Hywel Dda health board has the highest rate of late-stage diagnosis - 69% compared to the Wales average of 64%.
Dr Robin Ghosal, a lung cancer specialist, said many people feared coming forward.
Cancer survivor Mike Abel said an early diagnosis gave him "a second chance".
The 72-year-old was a heavy smoker for many years and went to see his GP after he had a persistent cough and noticed flecks of blood.
"I thought I had pneumonia. I had no idea it could be lung cancer," he said.
Mr Abel was diagnosed at an early stage and had surgery to remove part of one lung. Almost five years on, he is still cancer free and will hopefully be discharged later this year.
"I'm so glad I went to see the doctor when I did. It saved my bacon, it gave me a second chance," he added.
Dr Ghosal, a consultant at Prince Philip Hospital in Llanelli, Carmarthenshire, said people could also confuse their symptoms with other smoking-related problems.
"We still have a large proportion of patients who are only diagnosed after they come through A&E.
"By that stage they are often in very ill health and the prognosis and treatment options are poorer."
Treatment options through surgery and drugs are improving all the time but they rely on early diagnosis.
Campaign posters warning patients of the symptoms to look out for have been put up around GP surgeries in west Wales.
"If you do experience an unexplained cough which lasts longer than three weeks, breathlessness, weight loss, or coughing up blood, then those are things that need investigating," Dr Ghosal said.
Wales has the worst survival rate for lung cancer in Europe. In 2013, there were about 2,300 people diagnosed with lung cancer - and an increasing proportion of these are women.
Research shows only one third of patients at the point of diagnosis will survive the first year of cancer treatment.
Hywel Dda health board said "the key is to recognise the signs early on and get yourself checked out".