Snowdonia National Park job losses after £800k budget hit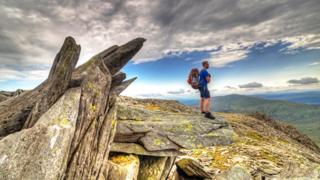 Jobs are set be lost at the Snowdonia National Park Authority as it tries to save almost £800,000.
Its budget from the Welsh Government is being cut by an equivalent of 5% in each of the next two years.
Chief executive Emyr Williams said 40 jobs have been lost in the past 10 years and more will now be considered.
At a meeting to discuss balancing the books, he said increasing income from car parks and education centre, Plas Tan y Bwlch, could bring in £230,000.
Cuts to the budgets of Wales' three national parks - Snowdonia, Brecon Beacons and Pembrokeshire Coast - were described as "frightening" last week.
Officials questioned why they were being imposed while the budgets of England's beauty spots are protected.
Mr Williams estimated that with inflation, the settlement meant the authority received less than it did in 2001.
"It's a difficult and extremely worrying time for us as staff and for authority members," he told a meeting on Wednesday.
"We have already lost 40 valuable jobs in the past ten years, which is a huge loss to this rural area.
"Today we have had to consider more job losses, although we need to accomplish more now than at any other time in our history."
Other efficiency savings include £170,000 through closing toilets, providing information electronically and reducing the internal audit.
Jobs could also be lost through reducing grants for tree work, spending on public rights of way and for contractors.
Consultations are now set to take place with staff faced with losing their jobs.
A Welsh Government spokesman said last week: "We appreciate the financial settlement is challenging but we have given national park authorities a two year settlement which allows them to plan better."
He said an additional £2m in the last year alone had gone to priority projects and unfunded pressures "which far exceeds the level of reduction to the core grant".