Are fines the best way to tackle rubbish recyclers?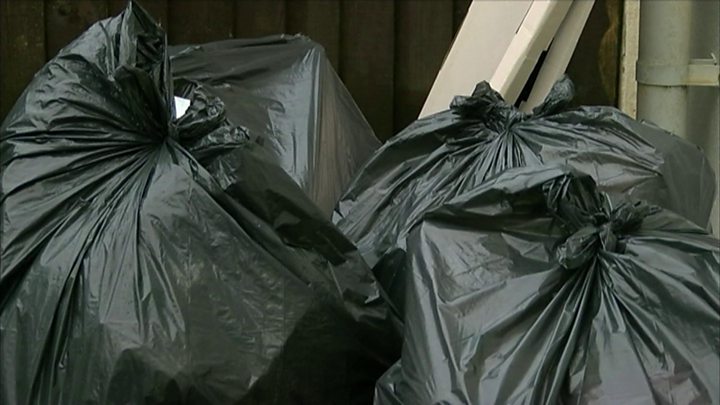 You can recycle most rubbish these days - but in one area, those who do not bother are set to be fined to make them change their behaviour.
Wales is second in Europe and third globally at recycling, hitting a 64% target four years early in August 2017.
But the better councils get, the harder it becomes to improve - with huge fines if they do not hit 70% by 2025.
With one local authority set to fine people £100 for binning everything, is this the best way to achieve it?
The Welsh Government wants no waste going to landfill by 2050 and has set its local authorities ambitious targets - with financial penalties for failure.
Rhondda Cynon Taf council is currently on target, but to drive this higher, it is set to fine those who simply chuck their tin cans, plastic and cardboard in the bin.
"We are leading the way. A lot of others (councils) are looking at how it will work," councillor Ann Crimmings told BBC Radio Wales' Good Morning Wales programme.
"Others have to look at their own recycling and we have led with campaigns on things like metal and litter in the past."
The first part of the plan is to limit residents to putting out just two instead of four black bags each fortnight in the hope this will encourage them to recycle more.
As the cabinet member for environment explained, about 75% of families follow recycling rules - if the others do not, the local authority could be miss its target.
This would mean a fine of up to £1m for the council and resources being taken from other areas.
Ms Crimmings added: "Penalty fines will be our last resort. We don't want to fine people. We would rather people not recycling come on board."
If the plans are passed at a meeting next Thursday, there will be an education campaign ahead of possible implementation in June.
Officers will not rummage through bins, but will look for houses not putting any recycling out.
They will then knock doors and "help, advise and encourage", with Ms Crimmings saying: "We will not be a hard-hitting council."
While she said the two black bag limit could potentially be relaxed for larger families at Christmas, packaging and wrapping was seen as another big problem.
This was a wider issue, she said, and was something supermarkets needed to take a lead on.
Rebecca Colley-Jones of project management firm Ynys Resources said evidence from around Europe did not suggest fines necessarily increased recycling rates.
However, she believes the last 6% to get to a 70% rate will prove difficult for councils.
Ms Colley-Jones pointed to food waste as one area that could be improved upon.
Currently people only about half of it is recycled.
"It [fining people] is a tool. But I'm not sure it pushes people in the end to do it."
Conwy's latest idea for encouraging recycling is to only collect rubbish every four weeks but other councils face different issues.
Blaenau Gwent recycled 57% of its waste in 2017 - a large jump from 49% a year earlier, but still short of the 58% Welsh Government target.
All of materials collected - including cans, cardboard and paper - were sent to the New Vale site on Waun-y-Pound Industrial Estate, Ebbw Vale.
However, the site is struggling to cope and a new £2.5m waste management site has been proposed for Abertillery to help as collections increase.
In England, a move to cut plastic bottle waste by tens of millions a year is set to see free water refill points placed in every major city by 2021.
Successful schemes in countries such as Norway, Germany and Canada see people pay a deposit, up to 25p, on a bottle to ensure they return it.
The more Wales recycles, the harder it will get to improve - councils will be watching to see if the threat of fines helps or hinders.