Tackle poverty to cut suicides, Samaritans Cymru urges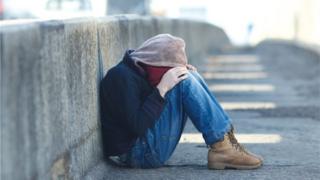 Poverty in Wales must be tackled urgently if the high number of suicides in deprived areas is to be lowered, according to Samaritans Cymru.
It said better help was key for those in debt and the Welsh Government needed an action plan to reduce poverty.
It said suicide rates were up to three times higher in deprived neighbourhoods compared with affluent areas.
The Welsh Government said it had made good progress in recent years promoting economic growth and tackling poverty.
The charity said each year between 300 and 350 people died by suicide in Wales, which is around three times the number killed in road accidents.
It is the most common cause of death for men aged 20 to 49 and the leading cause of death of people under 25.
Alongside this, almost a quarter of the Welsh population - some 23% - live in poverty, which costs £3.6bn a year, a fifth of the Welsh Government's budget.
The charity's research found that as deprivation increases, so does suicidal behaviour.
It also found hospital admissions following self-harm was twice as high in deprived areas compared with the most affluent, while suicide risk increased with unemployment.
'Not inevitable'
Samaritans Cymru said ministers needed to tackle the problem by developing a Wales Poverty Strategy, adding the action plan was of "critical importance".
It also called for better public information to help reduce unmanageable debt, better support for those bereaved by suicide and investment in community groups to tackle loneliness and isolation.
"There is now overwhelming evidence of a strong connection between socioeconomic deprivation and suicidal behaviour in Wales," said Sarah Stone, the charity's executive director for Wales.
"Suicide is not inevitable; there are actions we can take so that difficult times do not result in people dying."
The Welsh Government said Wales had achieved historically low rates of economic inactivity and unemployment.
A spokesman said: "In December the economy secretary launched the economic action plan which is grounded on the principle that well-paid work is the best route out of poverty and seeks to increase the availability of good-quality jobs and empower communities with the skills and infrastructure that can support better jobs closer to home."
He said the plan tied Welsh Government financial support to the "availability of fair work" and outlined "a new model of regional economic development that brings partners together to support inclusive growth in all parts of Wales".
'Talking helps'
John Phillips, branch director at the Samaritans in Swansea, is one of the people on the end of the phone for callers to the charity. He said they did now get a lot of calls about debt, which can lead to mental health issues.
"Some people just cannot find a way forward... We might signpost [them] to Citizens Advice so we are able to help them," he said.
"Certain areas of the country are worse than others and it's those areas where deprivation is there. A lot of these areas have got good communities - we need to get those communities working together."
Mr Phillips said poverty could combine with other events in a person's life.
"Loneliness is a big issue. If you take [men] that are over 40, [they] have found themselves in a difficult position because they've lost their job, they've lost their partner... and there are lots of other issues for them.
"Some people have found that in talking to Samaritans they find a way out. They find their own solutions sometimes, but just in talking it enables them to release some of those emotions."
Details of organisations offering information and support with mental health are available at bbc.co.uk/actionline, or you can call for free, at any time, to hear recorded information on 08000 564 756.