Musical instruments head to Patagonia from Cardiff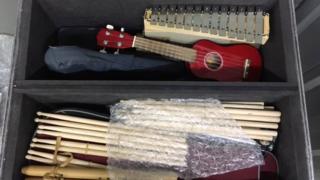 Dozens of instruments donated to a Welsh charity are en route to Argentina to help children learn to play music.
The Patagonia Instrument Project began in 2016, a year after the BBC National Orchestra for Wales (NOW) visited the Welsh-speaking community.
Percussionist Chris Stock said he was prompted to start the project after finding schools without instruments.
Instruments include violins, clarinets, 11 trumpets and three suitcases with handheld percussion for 180 children.
Charity secretary and percussionist Phil Girling said: "We have constantly been in touch with the groups we are trying to support to make sure we are sending what they actually require, rather than sending instruments that are of little use.
"We are hoping that these instruments will result in more children learning and more employment for teachers in the province."