Ice warning issued for Wales by Met Office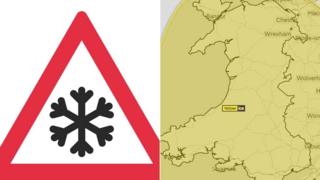 Motorists and pedestrians have been warned of ice on untreated roads and pavements on Monday morning.
The Met Office has a yellow "be aware" warning for ice in force until 10:00 GMT, following freezing temperatures on Sunday evening and overnight.
Forecasters warned of up to 5cm (50mm) of snow on higher ground, with some sprinklings predicted on lower ground.
The Met Office has warned people of possible slips on untreated surfaces.