Greg Symonds inquest: Hit-and-run driver not traced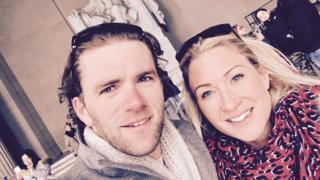 A hit-and-run driver who killed an SAS soldier while he was on operational duties in the United States was never caught, an inquest has heard.
Greg Symonds, 31, a father-of-two from Newport, was left for dead after being hit by a car in Santa Monica in Los Angeles, California, on 5 March.
An inquest in Hereford heard the paratrooper had been out socialising and had high blood-alcohol levels.
He suffered a fractured skull and died in hospital four days later.
The inquest was told debris from the silver Toyota that hit Mr Symonds was found at the scene and there was CCTV footage of the car but police failed to trace the driver and the investigation was suspended.
Scott Pace, of the Santa Monica Police department, said: "Based on information received, Mr Symons was in violation of the regulation that every pedestrian on a road other than at a crossing should yield right of way to all vehicles."
"The driver should have known that he was in a collision and was required to stop but I don't believe the driver was at fault."
Deputy Herefordshire Coroner Roland Wooderson recorded a narrative conclusion and said Mr Symonds died as a result of a road traffic collision.