'Apprentices should get same financial help as students'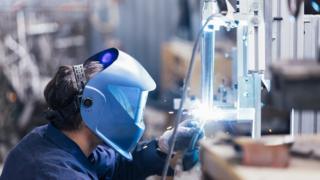 Apprentices should get the same financial help with living costs as that offered to university students, an assembly committee has said.
A report by the Economy, Infrastructure and Skills Committee said the costs could prevent young people from taking up apprenticeships.
All Welsh university students will be eligible for a maintenance grant of at least £1,000 from September 2018.
The Welsh Government said it would consider the committee recommendations.
The committee said there was "a strong moral case" for the Welsh Government to provide similar levels of support to apprentices as to those in full-time education.
Apprentices receive a wage while they train but the committee heard evidence that young people from lower-income backgrounds struggled with the costs of travelling to work.
The national minimum wage for apprentices under 19, or over 19 and in their first year of an apprenticeship, is £3.50, going up to £3.70 from April 2018.
Employers are encouraged to pay more as skill levels increase.
Assembly members also heard a suggestion that advance payments to buy clothes for an interview could help remove barriers.
The committee recommends setting up a hardship fund for those on the lowest pay levels or providing concessionary bus or rail cards.
It also called on the Welsh Government to establish "a universal grant to cover living costs for apprentices" as will be available for university students from 2018/19.
The report said there was "substantial" evidence financial barriers were discouraging and, in some cases, preventing many young people from taking up apprenticeships.
It added: "The support required to overcome this barrier, or perceived barrier, may only need apply in the first year of an apprenticeship, where the average annual wage is likely to be well below the basic rate tax threshold. While there are likely to be tax implications, the committee is not convinced that these will be insurmountable."
The committee report also found:
only 1.3% of apprentices in Wales are disabled, compared with 9% in England which the committee called "striking"
it recommended the Welsh Government set a target for the number of Welsh-medium apprenticeships
it also found "very little progress" had been made in the past six years to ensure school pupils get good-quality advice about apprenticeships, with cuts to Careers Wales noted as one factor
The Welsh Government said it was committed to raising skills and improving opportunities in the workplace and said it had broadened access to apprenticeships for all ages.
"We will continue to do all we can to ensure that apprenticeships are available to individuals across Wales," a spokesman added.