Wales Humanists 'excluded' from religious education councils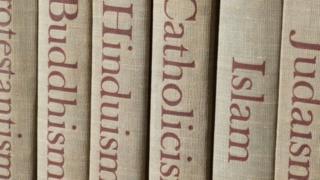 Humanists are being denied a voice on the teaching of religious education in schools in Wales, it has been claimed.
Wales Humanists has called for full membership on Standing Advisory Councils on RE (SACREs), which oversee the subject in schools.
The Wales Association of SACREs said the problem lies with a governing document which states only religious denominations can be full members.
The Welsh Government said it was looking into the issue.
Humanists either do not believe in or are sceptical about the existence of gods and aim to make ethical decisions based on reason and empathy.
SACREs are the bodies in England and Wales responsible for advising councils and schools on RE and collective worship.
Humanists can currently only become co-opted members, which does not give them full voting rights.
Kathy Riddick, Wales Humanists' development officer, stressed that secular beliefs were as important in modern society as religious belief.
"RE is about teaching ethics and morals. When children don't believe in a religion, the question is, where they get their moral ethics from may not have been sufficiently covered," she said.
"Humanism is about treating others the way you want to be treated."
According to Ms Riddick, some councils - Cardiff, Blaenau Gwent, Neath Port Talbot and Swansea - have co-opted Humanist representatives but other local authorities have rejected their applications.
'Great contribution'
She called for the "out-dated" circular which governs SACREs, written in 1994, to be changed by the Welsh Government to include belief groups.
Gill Vaisey, vice chairwoman of the Welsh Association of SACREs (WASACRE), acknowledged "the desire of Humanists to have more representation" and said they have made "a great contribution" as co-opted members.
But she questioned how SACREs can allow them to become full members when the circular's wording does not class them as a religious denomination.
She said WASACRE has asked the Welsh Government for guidance on the issue.
In response, a Welsh Government spokesman said: "We can confirm that we have been contacted by the WASACRE and Wales Humanists and are considering these issues."