Lynette White case prompts call for longer jail terms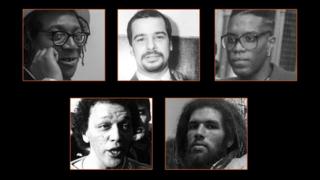 There are calls for a law change so criminals who knowingly allow innocent people to be convicted of their crimes can be sentenced more severely.
It comes on the 30th anniversary of Lynette White's murder in Cardiff, for which three innocent men were jailed.
They were acquitted by the appeal court and DNA advances later led police to the real killer, Jeffrey Gafoor.
Having served 13 years, he is now due for parole which has angered the victims of his crimes.
In sentencing Gafoor the judge said he had "allowed innocent men to go to prison" for a crime he knew he had committed.
With Gafoor now eligible for parole some are calling for a change in the law.
This, they say, would be included in the Criminal Justice Act 2003 forcing the issue of criminals who knowingly allow innocent people to be convicted of their offences to be sentenced more severely.
It is a view supported by South Wales Police and Crime Commissioner Alun Michael.
"There certainly were questions raised in a number of places about whether the sentence was proportionate to the nature of the crime and the fact that several innocent people spent time in prison as a result of Gafoor not coming forward and not admitting the case at an earlier stage," he told BBC Wales Investigates.
"I can't answer those questions but I think they are legitimate questions and it's a challenge to the criminal justice system to ensure that all factors can be taken into account in the sentencing process in future."
One campaigner for change is journalist Satish Sekar - author of three books on the Lynette White murder case - who is critical of the 13-year tariff given to Gafoor.
He wants to see an amendment to the existing sentencing guidelines to include a specific aggravating factor concerning miscarriages of justice.
"It is indefensible that he got a lower tariff than the original defendants," he says.
"He pleaded guilty but that was 15 years too late. It cannot erase the pain and guilty of Lynette's family or the suffering and stigma endured by the Cardiff Five and their families."
Sex worker Lynette White, 20, was stabbed more than 50 times by in a flat in the docklands area of Cardiff in 1988.
Detectives got an early lead when a white man was seen at the murder scene in a distressed state, his hands covered in blood.
But 10 months later five black men were arrested.
Despite their repeated denials and lack of evidence, three of the men were convicted in 1989.
Their convictions were eventually quashed on appeal.
A new "cold case" police investigation subsequently found the real killer, security guard Jeffrey Gafoor who eventually pleaded guilty and was sentenced to life in jail with a tariff of 13 years.
After he was convicted police launched an investigation into what went wrong with the original 1980s investigation.
Three of the main witnesses police presented - Mark Grommek, Leanne Vilday, Angela Psaila - later admitted that they had fabricated their accounts of the murder under intense pressure by police.
Jailing the three of them for 18 months for perjury, the judge told them. "You were seriously hounded, bullied, threatened, abused and manipulated by the police during a period of several months leading up to late 1988, as a result of which you felt compelled to agree to false accounts they suggested to you."
A police corruption trial which alleged eight retired detectives had acted "corruptly together and with other police officers to manufacture a case against the five men" began in 2011.
It collapsed in dramatic circumstances five months later due to disclosure issues. The judge abandoned the trial and declared all defendants not guilty.
The Lynette White inquiry had virtually brought South Wales Police to breaking point.
That stain remains to some extent which, says Chief Constable Matt Jukes, has served to forge a determination for change.
Speaking on the anniversary of Lynette White's murder, he says: "The learning we've taken from the murder of Lynette White and the original investigation has led us to review many other historic cases and has led to convictions in several of those.
"So, the case itself has driven a change in the organisation and brought about justice for other victims.
"For young officers today and many members of the community this case is something that they're aware of in the history of the organisation.
"It has truly deep resonances for all those affected by it and it's somewhat now in the DNA of the force I've got to say.
"Our determination not to fail in this way again steals my resolve every day to make sure our investigations are at the highest quality, professionally, technically, ethically, that they can possibly be.
"So I don't think even though this is an event that took place 30 years ago, it will leave the psyche of this organisation and its leadership for another generation."