NRW's permit approach questioned by Sophie Howe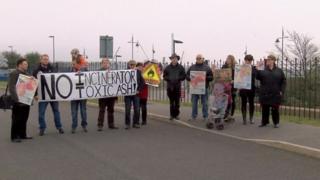 Wales' top environmental body has been asked whether it is complying with flagship new legislation in how it approves controversial developments.
The future generations commissioner has been contacted by a number of people concerned about a range of schemes.
These include the Barry Biomass plant and the Hazrem waste treatment plant in Caerphilly county.
Natural Resources Wales (NRW) said it was "committed to ongoing discussions".
Sophie Howe became Future Generations Commissioner for Wales in 2016.
The Future Generations Act, which also created Ms Howe's job, requires ministers and public bodies to take into account the economic, social, environmental and cultural impact of any policy decision.
She has written to NRW to ask them to demonstrate how the act is being applied during its process for awarding environmental permits.
Ms Howe said: "Over the last few months I have been contacted by a number of people who have expressed concern about a range of developments across Wales, in particular the Barry Biomass scheme and Hazrem waste treatment facility in Cwmfelinfach."
She said she has pledged to listen to public concerns and "detect any wider systemic issues" in how public bodies apply the new legislation.
"The approach NRW takes in their environmental permitting decisions has emerged as a common thread in the concerns raised to me by the public and local representatives," she said.
Ms Howe has now formally requested further information - including examples of how the act has been applied.
She said she made her request prior to the recent decision on Barry Biomass.
Ms Howe said: "Following an exchange of correspondence and a meeting with myself and Diane McCrea, chair of NRW, they have indicated that they are willing to cooperate in providing this information and I welcome their willingness to do so."
She said she would consider this information "closely".
Biomass UK No.2 Limited was granted the go ahead last week to process 86,400 tonnes of non-hazardous waste wood per year in Barry.
The Welsh Government said on Wednesday it was "minded" to direct that an environmental impact assessment be carried out to accompany the planning application before Vale of Glamorgan Council.
Alexis Liosatos, chairman of the Docks Incinerator action group (DIAG), which has been campaigning against it said he was very pleased that Ms Howe had got involved.
Campaigners are worried about the risk of fire and air pollution from the site, which will process waste wood and generate electricity, as it is being constructed just a few hundred metres from people's houses.
"It's outrageous that this thing is going to be there so close to people, there are 13 primary schools within a 2km radius," Mr Liosatos explained.
"We were very disappointed with NRW's decision to grant the permit - to go ahead with all the well sourced evidence we gave."
The group said it was an excellent opportunity for Ms Howe "to demonstrate the power of this ground-breaking piece of legislation".
NRW said at the time it had no "defensible grounds" to refuse a permit to operate.
Chairwoman Ms McCrea said: "Our decision documents set out how we reach our conclusions, which involves extensive public consultation including with external bodies," she said. "This is all publicly available."
Ms McCrea added: "We are happy to consider further how we apply the Wales legislation to our permitting processes and would welcome the commissioner's advice and guidance in doing this."