A-level Religious Studies textbook delays ahead of exams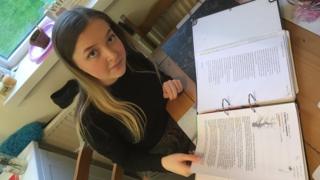 Some A-level pupils in Wales are still waiting to receive textbooks which are yet to be printed - just three months before they sit their exams.
Students studying philosophy and ethics as part of a Welsh exam board syllabus for religious studies are affected.
One Conwy county councillor said students were being "let down".
The WJEC exam body could not say how many pupils were affected but said it was also concerned by the delay and was working to get books to students.
Students began working towards their religious studies A-level exams in September 2017, but have been using copied notes and sheets prepared by their teachers while they wait for their textbooks to arrive.
Sana Rawnsley, 17, a pupil at Ysgol y Creuddyn in Llandudno, said teachers had tried pre-ordering the books, but they were not available.
"But because we're a Welsh medium school, it's obviously difficult to find resources in Welsh, so a lot of it's translated, and that's not ideal because some things can get lost in translation," she said.
"It is quite frustrating. Without the textbooks, we can't look through what the WJEC actually wants from us in the exams.
"It's difficult for us and feels like people in other subjects are at an advantage because their textbooks can just be handed to them."
Independent Conwy councillor Julie Fallon, chairwoman of the council's education scrutiny committee, said action was needed.
"It's completely unacceptable for those students who've worked really hard - they're being let down," she said.
"The WJEC needs to ensure that this sort of thing doesn't ever happen again."
A WJEC spokeswoman said the philosophy book would be available next week and it was due to receive the last part of the ethics draft soon.
She said: "Illuminate Publishing has agreed to make their final proofs of the remaining textbooks available in a non-downloadable format on our secure website once they have been sent to the printers.
"The draft version of the philosophy textbook is already available from the secure website, which can be accessed by all centres in Wales."
She added bilingual resources were available free on its website, including guidance for teachers.
It added the issue was also affecting students in England taking the same A-Level via its subsidiary Eduqas.