Family says Gary Speed 'never abused by Barry Bennell'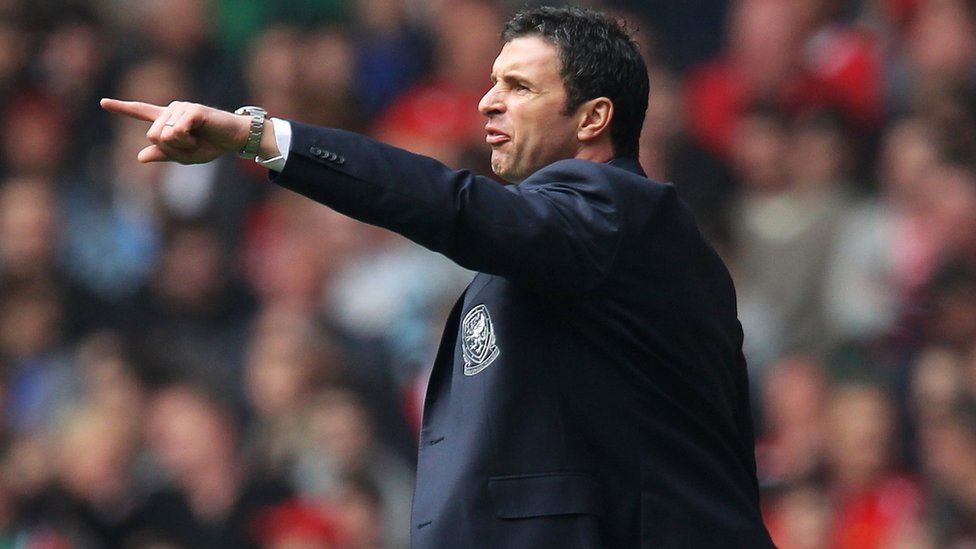 Former Wales manager and captain Gary Speed told police that he was not abused by disgraced football coach Barry Bennell, his family has said.
During his trial, a witness said Mr Speed was one of four men linked to Bennell as young footballers who had gone on to take their own lives.
Mr Speed's family has asked for the "unwarranted speculation to cease".
"Gary Speed was interviewed on two occasions by the police during their investigations into allegations made about Barry Bennell," said a statement released by the League Managers' Association on behalf of Mr Speed's family.
"On both occasions Gary made it quite clear that he did not know anything about Bennell's alleged behaviour and also made it clear that Bennell had never behaved inappropriately towards him.
"The police have subsequently made clear that they were satisfied that there was no reason to link the Bennell investigation to Gary."
The father-of-two, who was a youth team player at Manchester City before going on to play for Leeds, Everton, Newcastle and Bolton, took charge of the Wales side in February 2011.
He was found hanged at his home near Chester in November of the same year, aged 42.
A witness who gave evidence in Bennell's trial, who cannot be named, told Liverpool Crown Court that he knew of four people - including Mr Speed - who had worked with Bennell who then went on to take their own lives.
He said: "Whether they have taken their lives due to Barry solely I don't know but all I know is how it's had an impact on me and how it could impact on other people."
Mr Speed's family's statement added: "The prosecution also made clear at the trial of Bennell that "there was no evidence called at any of the inquests suggesting that [his] death was linked" to Bennell".