Sir Kyffin Williams exhibitions mark artist's centenary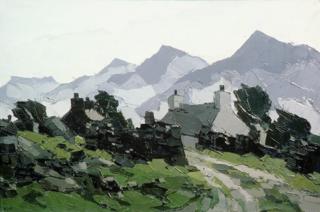 Major exhibitions celebrating the Welsh artist Sir Kyffin Williams have opened in Aberystwyth and Anglesey.
Sir Kyffin, who died in 2006, is regarded by some as Wales' most influential artist of the 20th Century.
He was born in 1918 and a number of events are taking place to celebrate his centenary.
A significant collection of works is on show at the National Library of Wales in Aberystwyth with another exhibition opening on Anglesey.
The display of his paintings and personal effects is at the Kyffin Williams Gallery at Oriel Ynys Mon in Llangefni.
"Sir Kyffin was an amazing artist," said Lona Mason, head of graphic, screen and sound at the National Library of Wales..
"He was very, very popular and he had many followers. A lot of people collected his art in Wales and far beyond.
"He started working with us at the library in the 1940s.
"That's where we started a good relationship with Kyffin, which continued right up to his death in 2006. And of course he bequeathed us a large collection, over 300 paintings by himself and various other artists he had inherited and collected. "
He loved people, he loved the mountains, he loved the seascapes
National Library of Wales
The library has more than 1,200 works on paper, as well as his archives and personal letters.
"We have probably got the best collection of Kyffins in the world, and the centenary is a chance for us to bring out and share what we have in the collection," said Ms Mason.
Sir Kyffin's iconic landscapes, scraped in thick oil with his trademark pallet knife, are the standout images of both exhibitions.
But his portraits, watercolours and ink and wash drawings reflect the breadth of his work.
David Wynn Meredith, who was a friend of the artist and chairs the Sir Kyffin Williams Trust, recalled the artist's approach to painting:
"He believed that you had to love your subject matter, and if you don't love anything you can't communicate," he said.
"And Kyffin certainly did love. He loved people, he loved the mountains, he loved the seascapes.
"He was totally committed to his craft as a painter. Painting was his life.
"And he viewed it not in any emotional way at all. As he often said, 'it's my job'."
Sir Kyffin was a supporter of Oriel Ynys Mon and his generosity led to the naming of one of its galleries in his honour.
While he achieved fame and commanded high prices by the standards of other Welsh artists, he remained living on Anglesey after returning to the island from a teaching job in England in the 1970s.
Ian Jones, the collections manager at Oriel Ynys Mon, said Sir Kyffin was "very prolific".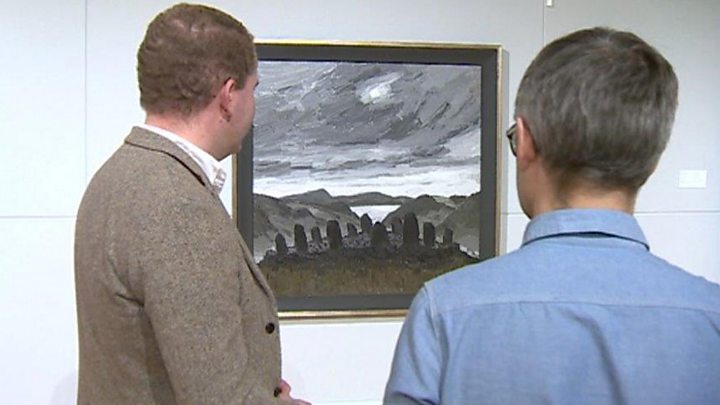 "He produced an immense amount of work. He touched on many subject matters from still life to foreign scenes.
"Kyffin's work appeals to a broad range of the population. He depicted the characters of the landscape, mountains, coastal scenes. And he was also fond of painting animals, especially horses. So there is a broad appeal."
Kyffin Williams: Behind The Frame is at the National Library, Aberystwyth until 1 September 2018. Kyffin Williams: Celebrating A Centenary is at Oriel Ynys Mon in Llangefni until 1 July.
You might also like: