Welsh Bafta winner Rungano Nyoni's 'genuine shock'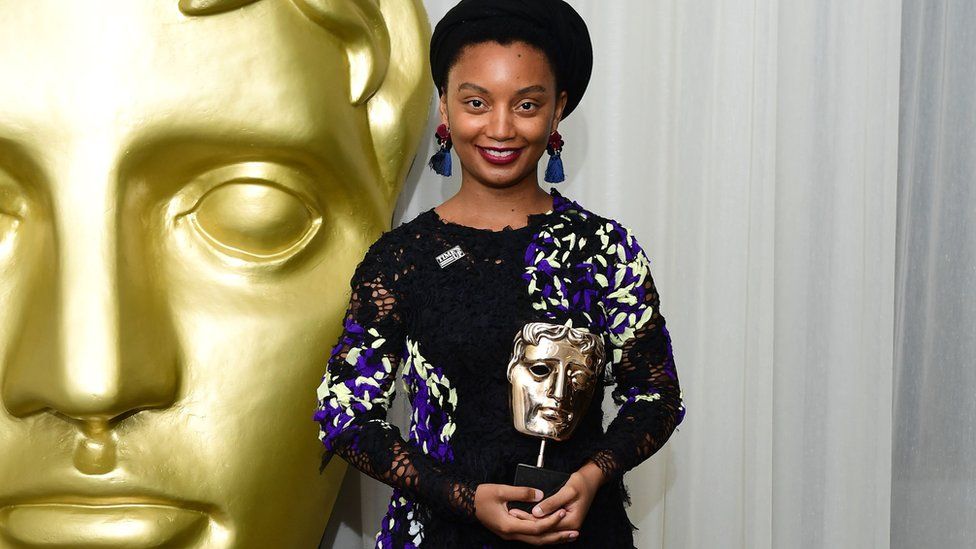 Film-maker Rungano Nyoni said she felt "genuine shock" when she was named a Bafta winner - and thinks it will now help open doors.
The Welsh-Zambian director won the outstanding debut prize for her film I Am Not A Witch - about a young girl at an African witch camp.
Raised in Cardiff from the age of eight, Nyoni said she was convinced another director would win.
She told BBC Radio Wales she now hoped to find new works based in Wales.
Other stories from the 2018 Baftas you might like:
"It was a real big shock - I know people say that, because I've watched these awards," she told BBC Radio Wales.
"Genuinely, we were sat at the back in a bad position and we'd seen the others nominated in better positions, so we'd predicted who would win - it was a sure fire bet - everyone had predicted it would go to another film.
"So we were pretty relaxed - I was waiting for my category to go so I could go to the toilet.
"And then they called it out - and it was a shock - and my mum was shocked - she started crying."
The low-budget feature was made with funding from organisations including Ffilm Cymru and the BFI, and it was the first Zambian film to be shown at the Cannes film festival.
Nyoni said she was now looking to find fresh stories to turn into films.
"I'm working on trying to find something. Originally, when I finished the film I said I wanted to do something in Wales - I'm not sure if that is possible - I'm just trying to find a story and where I go with it, because I've lived here and I know the place."
Regardless of what the next project will be, the film-maker said the response to her film was already making an impact.
"It certainly opens doors - for sure," she said.
"I'm getting more people writing to me and approaching me with ideas - and that's nice. That's much better than it was last year - last year I got no-one coming."