University lecturers held strike over pension deadlock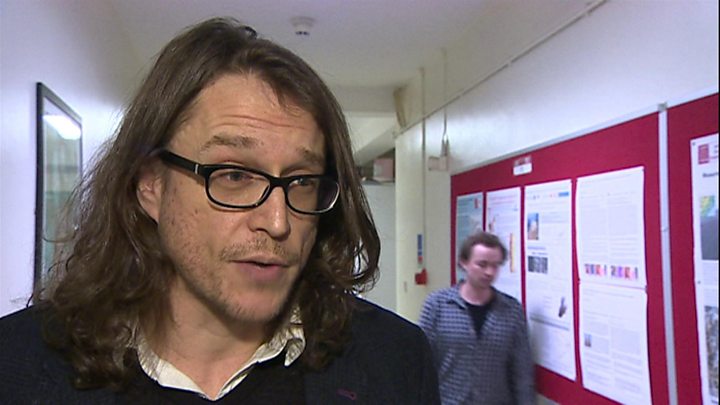 Staff at Welsh universities have walked out in a dispute about the UK's biggest pension scheme, bringing disruption to lectures for up to 60,000 students.
It followed a ballot of 2000 University and College Union (UCU) members at Cardiff, Aberystwyth and Bangor universities, and University of Wales.
The strike was the first of 14 days of industrial action over four weeks.
Employers' group Universities UK (UUK) said the pension scheme changes were essential because of its deficit.
More than 4,300 people have signed a petition supporting the lecturers and calling for Cardiff University to compensate students academically for missed lectures, but the university has said the impact on learning would be "minimum".
Cardiff students Samuel Veal and Katie Walters who started the petition, fear students will be left without support and unable to answer key questions in exams due to the lost classes.
Lecturer Andy Williams said most students sympathised with the fight to stop the changes, but staff were sad the impact would mean students would miss out.
"It is serious action and lengthy and it is going to be disruptive. We do this very reluctantly," he said.
"I think the students understand it's not us they should be blaming, it's our managers and it's our vice chancellors who have put us and therefore them in this situation."
Student Ella Theaker said: "It's my final term and I've got really important deadlines coming up, this is it for me, so it's a bit frustrating to have it disrupted in this way."
The Universities Superannuation Scheme (USS) is the UK's largest in terms of assets with £60bn worth, four times the size of the British Steel Pension Scheme.
Staff are angry at plans to change the scheme - arguing they could end up with a less favourable pension pot when they retire.
What is the row about?
At present, staff are in a scheme that mixes what are called defined benefits and defined contribution pensions
The pension contribution of the first £55,000 of any staff's earnings goes into the defined benefits pot. That guarantees a fixed pension pay-out when they finally finish work.
For earnings more than £55,000 a year, pension contributions go into the defined contributions pot.
This pot is more volatile - as the amount of pension you get back depends on the money markets on the day of retirement.
The proposed changes would see all payments placed in the defined contributions pot in the future.
This would mean all the investment risk would fall on individual scheme members.
Without the changes being proposed, USS said it would have a £7.5bn deficit.
This only affects what happens with future funds from April this year as all previous savings are legally protected.
The UCU's members include lecturers and other "academic-related" staff such as researchers and librarians.
UCU and UUK blame each other for the deadlock, which it is feared could drag out into the exam period if not resolved.
UCU general secretary Sally Hunt said: "While UCU is working hard to resolve the dispute if we can, what we have from Universities UK is obfuscation and delay."
A UUK spokesman said the proposed changes would make USS secure and sustainable.
The USS scheme is only used by older universities such as Cardiff, Aberystwyth and Bangor, and some staff at the University of Wales office in Cardiff.
All said they hoped to keep disruption to a minimum.
Swansea University staff are also in the USS but their ballot did not meet the minimum 50% turnout required by the Trade Union Act 2016.
Universities set up after 1992, many of which evolved from polytechnics, use the Teachers Pension Scheme which is state funded, whereas the USS is funded by member universities and the staff.