Mark Aizlewood jailed over football apprenticeship fraud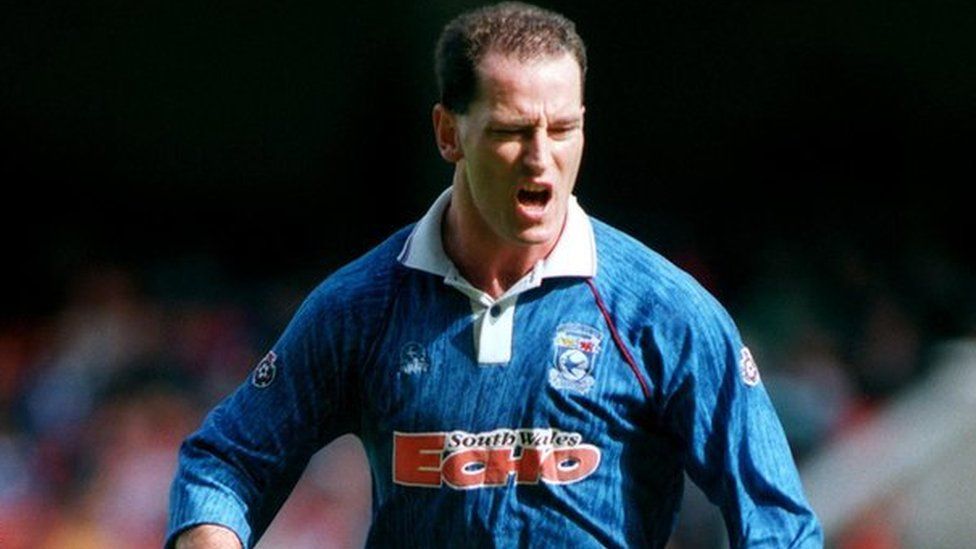 Ex-footballers Mark Aizlewood and Paul Sugrue have been jailed for their part in a £5m football apprenticeship fraud.
The government-funded scheme claimed to help youngsters from deprived backgrounds gain coaching qualifications.
But those running it lied about the number of people enrolled and did not carry out all of the promised training.
In total, four men were found guilty and two others admitted fraud charges at Southwark Crown Court.
Aizlewood, 58, was a Welsh international while Sugrue, 56, played for clubs including Middlesbrough and Cardiff City.
Judge David Tomlinson said the scam involved "eye watering sums of government money".
Jailing Aizlewood for six years and Sugrue for seven years, he added: "There was a serious detrimental effect on colleges of further education" calling it a "shameful exploitation".
Fellow director Keith Williams, 45, from Anglesey, and Jack Harper, 30, from Merseyside were found guilty of fraud charges alongside Aizlewood and Sugrue, following a four-month trial.
Williams was jailed for four years and Harper for 18 months.
Two other men, Christopher Martin, 53, from Catmore, Berkshire, and Stephen Gooding, 53, from Bridgwater in Somerset, had previously pleaded guilty for their role in the youth training scheme fraud.
Martin was given five years and three months in prison, while Gooding was sentenced to 20 months.
Aizlewood was identified by investigators as the leader of the scam, using his influence to defraud colleges, charities, football clubs and sports associations between 2009 and 2011.
Capped 39 times by Wales, he played for Newport County, Luton Town, Charlton Athletic, Leeds United, Bradford City, Cardiff City and Bristol City.
Most recently, he was manager at Carmarthen Town, who terminated his contract when the verdict was announced.
The fraudsters and their sentences
Mark Aizlewood was sentenced to six years for conspiracy to commit fraud by false representation. He was convicted of one count but cleared of the other
Paul Sugrue will serve seven years for two counts of conspiracy to commit fraud by false representation
Keith Williams was found guilty of two counts of conspiracy to commit fraud by false representation and will serve four years
Jack Harper was found guilty of fraud and using a false instrument and was given an 18-month sentence
Christopher Martin admitted two charges of conspiracy to commit fraud by false representation before the trial and was given five years, three months
Stephen Gooding admitted one charge of conspiracy to commit fraud by false representation and was given 20 months
Aizlewood set up Luis Michael Training Ltd as a football-based apprenticeship scheme with Sugrue, Williams and Martin, promising to provide full-time training in football coaching as well as work experience and a £95 weekly salary to 3,800 students.
Instead, the court heard that for every apprentice enrolled, the defendants claimed money provided by the UK government.
Hundreds of the students on their books did not even exist, while some lived at the opposite end of the country from the scheme or were doing just two to three hours of study a week.
The men were charged after a whistleblower alerted Gwent Police in November 2011 and the Serious Fraud Office spent more than four years collecting 5.2 million pieces of evidence and interviewing 600 people.
Investigations found that between October 2009 and December 2010, Sugrue pocketed £516,000, Aizlewood £424,000, Gooding £448,000, Harper £311,000, Williams £295,000 and Martin £249,000.