Big freeze squeeze on Welsh businesses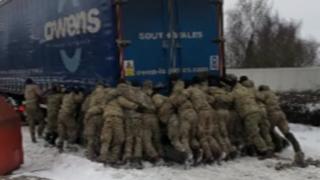 The cold snap has been "hugely disruptive" for the Welsh economy and has cost companies millions of pounds, according to a business association.
CBI Wales said "things have just stopped" since the extreme weather hit on Thursday.
Springboard, which measures retail activity, said footfall for shops had dropped at least 40%.
However, the CBI also praised the resilience of businesses and staff working hard to stay open.
Mike Plaut, chairman of the CBI Wales, said: "We've really lost half of Thursday and all of Friday. Businesses just can't afford that. People aren't buying things, people aren't spending money.
"Things just have stopped."
Llanelli-based hauliers Owens Group said the extreme weather had cost the business tens of thousands of pounds.
Manager Ian Jarman said the M4 was "practically impassable" on Friday and conditions had hampered their trucks in south Wales and across the country.
"Since Tuesday, we have had 20 lorries stuck up in Scotland, and we've got about 11 up in the north east.
"The cost of these is £1,000 a day, as a ball park figure, and the knock-on effect on us as a business is it's going take us seven to 10 days to catch up with our deliveries."
Diane Wehrle at Springboard said almost half of footfall in shops had been lost since Thursday.
"It's a huge drop for retailers," she said. "Particularly coming towards the end of the week when footfall tends to peak."
However, some local businesses have enjoyed the benefits of being among the few still open.
Business at David Lush's butcher shop in Penarth, Vale of Glamorgan, business was booming on Friday, despite three members of staff not being able to make it in.
"We've been rushed off our feet through this usual weather we've been having," Mr Lush said.