Brexit: Fair farm funding urged by farming Union of Wales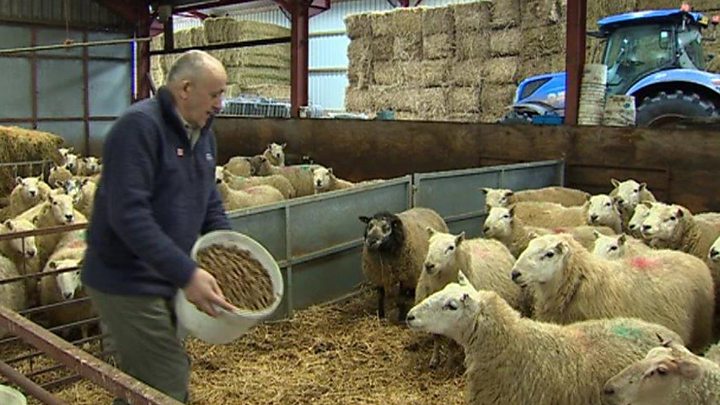 Welsh farmers could face a 40% cut in funding unless changes are made to the way money is distributed from Westminster to Cardiff after Brexit, it has been claimed.
The Farmers' Union of Wales (FUW) fears a "deterioration of the countryside".
It wants agriculture funding to be dealt with differently to other devolved areas such as education and health.
The Treasury said it had committed to matching Welsh farm funding until 2022.
The crux of the issue is the way money is given to the UK's devolved governments.
Farming leaders are worried the support the industry receives will be subject to the Barnett formula after Brexit.
It has been used to dictate the level of public spending across Wales, Scotland and Northern Ireland for the last 40 years.
Extra money - or cuts - from Westminster are allocated according to the population size of each nation and which powers are devolved to them.
So when the UK Government gives extra cash to the NHS in England for instance, the Barnett formula is used to work out how much more the Welsh Government should get to spend on health too.
But historically the funding for farming has been handled separately as it comes from the EU.
Wales receives 9.4% of the £3.5bn sent from Brussels to the UK each year, which works out as £329m.
The UK Government has said the farming sector will continue to receive the same amount of money it currently gets from the EU until 2024.
But if the Barnett formula is used to decide how that funding is distributed, the FUW claims Wales's share will fall to 5.6% or £196m - a 40% reduction.
Launching a new Fair Farm Funding campaign at its general council in Aberystwyth on Thursday, the union will call on the Treasury to allocate funds for agriculture outside the Barnett formula in future.
It already has Welsh Government support, with First Minister Carwyn Jones telling a committee of MPs recently that "agricultural funding will have to be held in a separate pot and dealt with in a different way".
FUW vice president Brian Bowen, a cattle and sheep farmer at Princetown near Tredegar, Blaenau Gwent, said it would not just be farmers that would be hit by any cut to the funding available.
He said: "Thousands of businesses that rely on agriculture are going to be affected, and that's what the politicians need to get their heads around.
"Think about the people living in rural villages across Wales - most of them are there because of agriculture in some way."
"80% of the landmass of Wales is under agricultural management. There would be no reinvestment whatsoever so you would see a deterioration of the countryside and that is something I would hate to see happen," he said.
The Welsh Government said more than 18 months on from the referendum, there was still no clarity about what funding would return to Wales.
"We have been clear from the start that Wales must not lose a penny, as we were promised and we continue to fight to ensure funding returns to Wales," said a spokesman.
"EU funding is based on need, which means we currently receive more than a population share of agriculture funding. Applying Barnett to any future funding would not reflect Wales' needs."
A Treasury spokesman said: "The UK Government has already committed to matching Welsh farm funding from the EU until 2022.
"This has provided the sector with more certainly than current CAP allocations."