International Welsh artist opens 'Illuminating Gas' work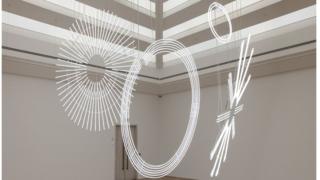 Welsh artist Cerith Wyn Evans has unveiled a new neon light installation in the "prestigious" museum that inspired him as a child.
The piece consists of three vast discs made from bright white neon light tubes, and was created specifically for National Museum Cardiff.
It is called Radiant Fold (....the Illuminating Gas) and is inspired by one of the iconic works of the pioneering conceptual artist Marcel Duchamp, The Bride Stripped Bare by Her Bachelors.
His latest work was given to National Museum Cardiff through the Great Works Scheme, which aims to ensure UK museums own works by major British artists of the last 20 years.
The gift was welcomed by Nicholas Thornton, the head of fine art at National Museum Wales, who said he had been trying to acquire a work by Mr Wyn Evans for some time.
"Every year as curators and within the art department we do a wish list of artists that really should be in the national collection and, consistently over the last 10 years I've been here, Cerith's name has always been at the top of that list as the artist that we as the museum most want to represent in the collection."
The work will join the museum's collection and will be displayed in Cardiff until 2 September 2018.
You might also like:
The urinal that changed how we think
The dying art of neon sign-writing
Bipolar artist's Cardiff exhibition 'raising awareness'
Unveiling the work, Mr Wyn Evans said he was as proud to display it in Wales as he was to have exhibited in the Centre Pompidou in Paris and the Museum of Modern Art in New York.
"It is a great honour for me to show in such a prestigious museum. It was very important to me, growing up. I came here as a child.
"It's just so flattering to be in the presence of such extraordinary art," he said.
The work hangs in the centre of the museum's Colwinston Gallery, a square white room with a pyramid roof.
Describing the room as having "quite severe symmetry", Mr Wyn Evans said the work was "a love letter to this room. The room is special. If we had installed this in another room or area it would work as a different piece."
Mr Wyn Evans, who was born in Llanelli, is internationally renowned for using neon light to create art.
In 2017 his critically acclaimed installation at Tate Britain, Forms in Space…by Light (in Time), was made from nearly 1.2 miles (2km) of neon lighting.
He was the first artist to represent Wales at the Venice Biennale in 2003 and also works with photography, film and sculpture.