Youth club projects to continue despite charity closure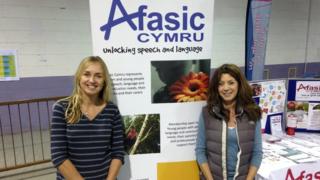 Four out of five Afasic Cymru youth club projects are to continue, despite the charity's planned closure at the end of March.
Their Flintshire, Rhyl, Colwyn Bay and Neath youth clubs will be continuing after agreements with other groups.
Yvonne Brookes, development officer at Afasic Cymru, said staff and service users were "in shock, complete shock", over the charity's closure.
Their Cardiff youth club project will be not be continuing.
Afasic Cymru helps young people with speech, language and communication needs.
The charity is closing due to a lack of funding.
Afasic Cymru's Cardiff office closed in January and their north Wales office will close on 31 March.
The charity will still offer services from its London headquarters and through their helpline, but its closure in Wales means there will be no Welsh language service available.
Over the last three years, the charity has trained over 1,610 individuals and over 1,750 families have accessed family days and activities.