Openreach recruits 250 engineers in Wales broadband push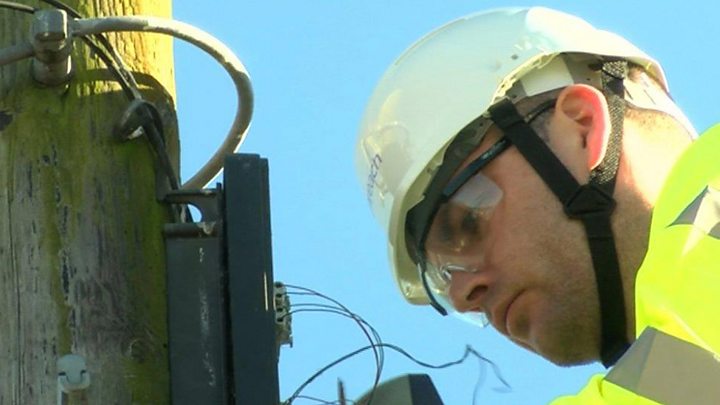 More than 250 trainee engineers are to be hired across Wales to expand broadband and upgrade network speeds.
It is part of the largest recruitment drive ever undertaken by Openreach, which is part of the BT Group.
The new jobs over the next year will be across Wales, including Cardiff, Carmarthen, Monmouth, Anglesey and Wrexham.
Small businesses welcomed the move but say it is "essential" super-fast broadband is available all over Wales.
Cardiff is also to become one of 12 UK training centres in what the firm calls "a further major investment in Wales".
The recruitment programme is aimed at delivering faster broadband to 10 million UK homes and businesses by the mid 2020s.
Openreach said superfast broadband was already available in 93% of Wales.
However, Ofcom data analysed by the House of Commons library in January 2018, found communities in Wales had an average broadband speed of 35.4 megabits per second (Mbps), compared to a UK average of 44.6Mbps.
Ultra-fast broadband is defined as speeds of 100Mbps, while superfast broadband is defined as speeds of more than 24Mbps.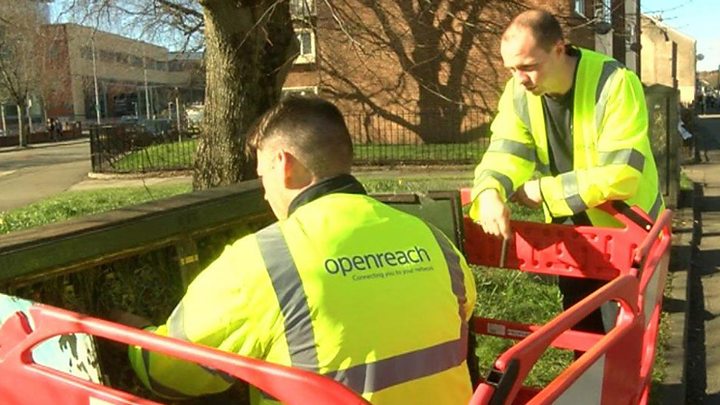 Ultrafast broadband will see fibre connected directly to homes and businesses.
A pilot scheme is already under way in Swansea.
Openreach has been criticised for running fibre only to cabinets and relying on copper wires to connect to premises, which slows speeds down.
While this has allowed superfast broadband to be rolled out quickly, it has left many businesses frustrated with the service.
Cardiff is one of the first eight cities in the UK where the roll-out will start.
Ynyr Roberts, infrastructure delivery director for Openreach in Wales, said it was the biggest recruitment programme it had been involved in and the 258 new posts showed the company had a vision for all parts of Wales.
He said the breadth of recruitment showed Wales was a large and diverse country "which needed people in all corners".
"It means we can expand to offer new services - whether mobile or broadband - and also we will be there to repair services in a timely fashion," he added.
Josh Miles, policy manager with the Federation of Small Business in Wales, welcomed the investment but said there were still "significant not-spots in Wales, especially in rural areas.
He said it was important super-fast broadband was available to all businesses.
The new engineers will work towards gaining BTEC diplomas and join a workforce of 22,000.
Openreach is responsible for managing the UK's broadband infrastructure.
It was split from BT following pressure from regulator Ofcom to ensure it was providing good services for BT's competitors, including Sky and TalkTalk.
The company now has its own staff, management and strategy though it remains part of the BT Group of companies.