Housebuilder Persimmon to recruit 700 in south Wales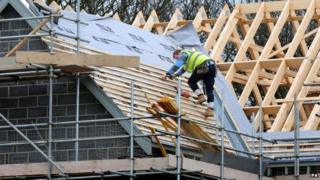 Housebuilder Persimmon Homes is recruiting more than 700 construction workers in south Wales.
The new jobs include groundworkers, bricklayers and carpenters.
The expansion is a result of new housing developments starting in areas along the M4 corridor.
Martin Smith, managing director of Persimmon Homes East Wales, said the company is forecasting it will build about 1,500 homes a year in Wales.
The projects are at Abergavenny, Newport (Junction 25), St Edeyrn's (J30), Llanilltern Village (J33), Hendy, Bynea, Narberth, Herefordshire and various developments along the Heads of the Valleys.
Mr Smith said: "With this continued expansion of the business comes new jobs.
"What we can offer as a company is a promise of long-term, stable employment as we continue to grow."
Persimmon's share price has tripled since 2013, which some analysts have attributed in part to government subsidies for new buyers under the Help to Buy Scheme.