First captive-bred white claw-crayfish spawn in Wales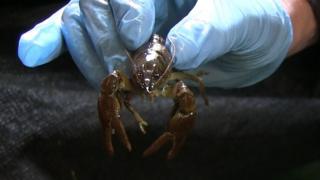 The only native species of crayfish could be returning from the brink of extinction in Wales after a captive-bred group successfully spawned in the wild for the first time.
Environmental body Natural Resources Wales (NRW) first released white-clawed crayfish in Powys' River Irfon and its tributaries five years ago.
Those have now bred, resulting in a new generation in the area.
There had been fears the species could die out completely by 2030.
White-claw crayfish numbers have been in sharp decline due to a number of factors, including climate change, pollution, and the introduction of the non-native American signal crayfish in the 1980s, which out-competed them for food and infected them with disease.
In the past decade the species has declined by up to 80% world-wide.
Oliver Brown, NRW's fish culture officer, said the continued presence of the captive-bred population at the release sites near Builth Wells was really encouraging.
Originally seen as a stop-gap measure, Mr Brown said the breeding programme could become part of the long-term solution.
"Finding these wild-born offspring from our captive-reared programme proves that this could be a valuable tool in safeguarding the species for the future," he said.
"Their presence is an indicator of good water quality, as they are very sensitive to pollution, so their continued presence at the release sites is really encouraging."
As well as releasing the captive-bred crayfish, the project included a number of actions to improve water quality and habitat - such as restoring a peat bog, and managing fencing and overhanging trees along the river.
But NRW said the public could also do their bit to help by cleaning canoes and fishing equipment after use, to prevent the spread of crayfish plague from one area to another.