Syrian refugees' pain over separation from family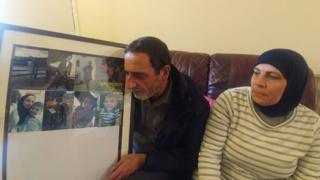 A family resettled in Wales after fleeing Syria have spoken about their pain at being separated from their sick daughter and a seven-year-old grandson.
Abo Mohammad and his wife Ghazwa Aljassem came to the UK in 2016 with two sons after fleeing the city of Homs five years earlier.
They left Syria when civil war broke out and said they were persecuted by the dominant Alawite population.
But they were parted from three of their children and lost some family.
Their 23-year-old daughter Duaa and her son Hamsa are currently in Lebanon, where she recently found out her husband died in 2013, two years after being arrested.
Mr Mohammad, from Abergavenny, Monmouthshire, said: "Our grandson Omar was bombed. Afterwards he was paralysed. We took him to the American Hospital in Lebanon and spent a fortune of money to help him but he died.
"Then in 2011 Duaa's husband was arrested and we didn't know where he was.
"We have just had a letter saying that he died in July 2013 and saying that someone needs to go and collect his death certificate.
"My mother and brother died. The whole family was torn apart. I still have brothers and sisters in Syria but they are displaced. They are not in their homes."
The couple have spoken ahead of the second reading in Parliament of the Refugees (Family Reunion) Bill on Friday.
If written into law, the bill would allow the likes of Mr Mohammad and his wife to be reunited with their daughter and grandson.
"She is vulnerable," Mr Mohammad said. "There is a lot of pressure with having nowhere to live and finding out about her husband's death.
"There is no support at all. There are no jobs.
"She has now been in hospital for two weeks. She is sick. She has been sick before. She has gastroenteritis. She has no money to buy medicine."
He added: "There is also racism in Lebanon. If you are Syrian they will say you need to go back to your country. Because Duaa is Syrian she can't walk alone on the streets. She could be followed and threatened."
'Nowhere to sleep'
The couple said they have been made to feel welcome in Wales, but they are struggling to settle because of their daughter and grandson's situation.
"We've had a lot of support from the local people," said Mr Mohammad.
"They have helped us start a life here but, wherever you live, without your family, without your children, you will not be happy.
"This worry is always here. It's always a barrier for everything, volunteering, working. We cannot feel settled.
"We can't sleep, because we think of her with nowhere to sleep. We can't eat, because we think of her with nothing to eat."
The head of refugee support at British Red Cross, Alex Fraser said: "This bill marks an important step towards improving the lives of refugees who have been torn apart from their families."