Neath Port Talbot: coal mine to create 200 jobs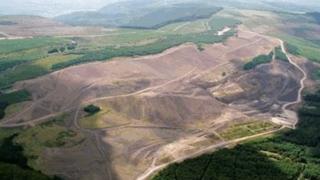 An underground drift coal mine in Neath Valley is set to reopen, creating up to 200 jobs.
About 300 people lost their jobs in the three years running up to production being stopped at the Aberpergwm Colliery, near Glynneath, in 2015.
However, new investors have come forward with the aim of restarting coal production at the site.
Neath Port Talbot councillors voted unanimously to approve the planning application on Tuesday.
The application had previously been approved in 2015 but final legal agreements were not signed off due to a change in ownership of the site and changes in the coal market.
Hugh Towns, minerals advisor for the council, told councillors the company, Energybuild, had been owned by Canadian firm Walter Energy, which went into administration.
However, in the past six months a firm of investors had bought Energybuild, which would now be a standalone UK company.
It is anticipated 115 jobs will be created in the first year of operation, increasing to 200 jobs by the fifth year.
Monitoring sites
The applicants propose to invest an initial £10m with the aim of producing a million tonnes a year, and possibly more.
Councillors welcomed the reopening of the mine but raised concerns over how well the council could monitor potential breaches of environmental planning conditions.
Planning officer Steve Ball said the monitoring of mineral sites was being done by Carmarthenshire County Council and there were procedures in place to ensure the development had no unacceptable impact.
A liaison committee will be set up involving councillors, minerals officers, and representatives from Energybuild.
Aberpergwm first opened in the late-19th Century, and at its height during the 1930s employed more than 1,500 people.
It shut in 1985 but reopened a year later under private ownership. The mining activity at Aberpergwm has been supplemented since 2005 by opencast coal developments on the high ground above the mine site.