Red Arrows crash: Cpl Jonathan Bayliss named as victim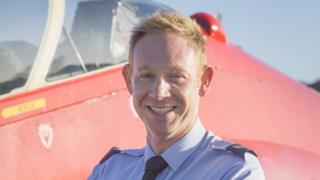 The engineer killed in a crash involving the Red Arrows on Tuesday has been named as Cpl Jonathan Bayliss.
Cpl Bayliss, 41, was killed when the Hawk aircraft, which is used by the aerobatic display team, crashed at RAF Valley on Anglesey at about 13:30 GMT.
A full investigation into the cause of the crash, in which a pilot was also injured, has been launched.
Colleagues described Cpl Bayliss as a "generous, kind and caring man who could always be relied upon".
The pilot of the aircraft has been named as Flight Lt David Stark. He was injured in the incident and was treated in hospital for non-life threatening injuries.
During the incident on Tuesday afternoon, eye witnesses said they saw one person eject from the aircraft when it was quite low to the ground before it crashed into the runway.
However later on Tuesday it emerged that one person had died.
In a statement on Wednesday, tributes were made to Cpl Bayliss, who was born in Dartford, Kent.
He had joined the RAF in 2001 and became a member of the Red Arrows team in January 2016.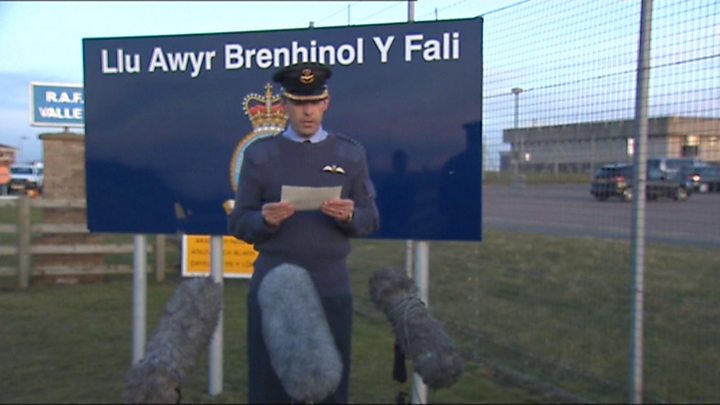 His colleague Sgt Will Allen said: "Jon had the ability to motivate and inspire a team and those around him - no matter the rank, role or person.
"He had a big presence in the squadron and with his wide beaming smile, and dry humour, could lighten up any dull moments or lift spirits."
Defence Secretary Gavin Williamson said: "It is with deep sadness that I heard of the death of Corporal Jonathan Bayliss whilst flying with the Red Arrows on Anglesey.
"It's clear from his colleagues that he was an incredibly skilled engineer and held in the highest regard as a team-mate, a friend, and a shining example of what the British Armed Forces stand for.
"Our thoughts and prayers are with his family and loved ones at this terrible time."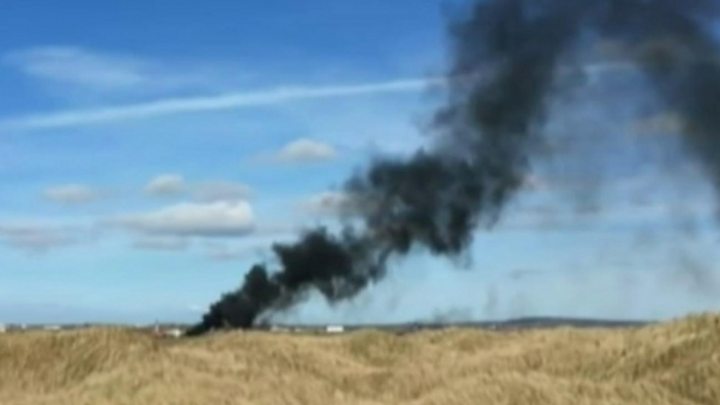 Cpl Jonathan Bayliss
Jonathan Bayliss was born in Dartford, Kent and grew up in Hartley. Before joining the Royal Air Force in 2001, he worked at Brands Hatch motor racing circuit
Cpl Bayliss was a mechanical engineer with the Red Arrows. In 2017, he led the dye team, replenishing the famous coloured smoke when the planes landed
In 2018, he was selected for the circus team - providing technical support when the Red Arrows were away from their home base
Wing Cdr Andrew Keith, Officer Commanding for the Red Arrows said: "Cpl Bayliss was a popular colleague and someone whom others looked up to, being able to draw inspiration from his knowledge and strength of character.
"The Red Arrows family is a close one - the squadron is a small team who live and work side-by-side and the overwhelming number of condolence messages, received from around the world, have been enormously comforting to us all and we are very grateful for that."
The RAF said the jet was on a routine flight from RAF Valley to RAF Scampton, where the Red Arrows are based, after completing simulator training when it crashed.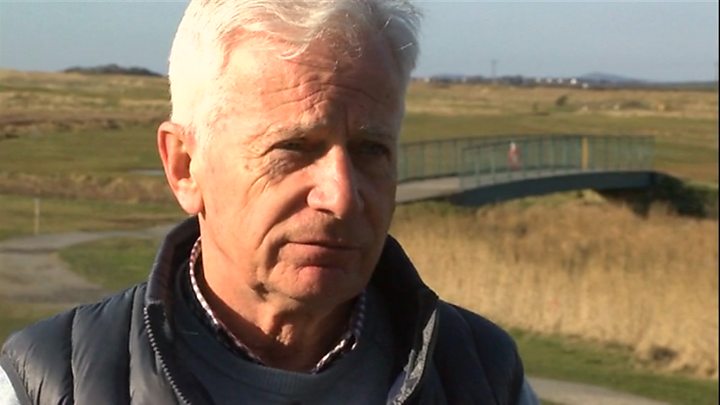 North Wales Police said officers and crime scene investigators, supported by other specialists including the Defence Accident Investigation Branch are carrying out a joint investigation to find out what led up to and caused the "tragic event" on Tuesday.
Ch Insp Simon Barrasford also asked anyone who saw the Hawk aircraft before it crashed to contact the force.
On Tuesday, eyewitnesses described hearing a loud explosion before they saw a "ball of flames" and lots of smoke.
One woman said the aircraft "did a loop" and flew towards the runway, looking like it was about to land.
Several people then described how they saw one person eject from the jet as it was quite low to the ground, before it crashed on the runway.