Princess Elisabeth of Belgium to study in Wales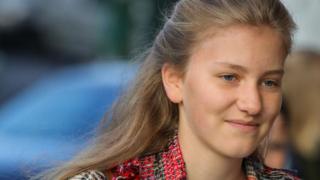 The heir to the Belgian throne is to study at Atlantic College in the Vale of Glamorgan.
Princess Elisabeth, 16, will begin studying for the International Baccalaureate this summer.
HRH Elisabeth, who is also known as the Duchess of Brabant, is the eldest child of Queen Mathilde and King Philippe of Belgium.
The college hosts more than 350 students from over 90 countries.
Atlantic College says its mission is to make "education a force to unite people, nations and cultures for peace and a sustainable future.
"To provide a platform for young individuals to learn through shared experience and be empowered to make a positive difference".
The Vale of Glamorgan campus is housed in the 12th Century castle of St Donat's.
Among its notable alumni are politicians, diplomats, scientists and artists including Welsh Government minister Eluned Morgan and the Welsh-Egyptian filmmaker Sally El Hosaini.
It was founded in 1962 by the German educator Kurt Hahn and was designed to promote international understanding through education.