Concern over Welsh police accessing texts and emails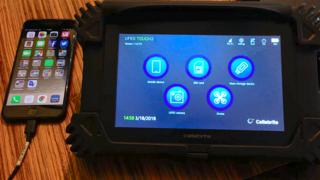 Technology for extracting text messages and emails from mobile phones is being used by Welsh police forces, prompting privacy concerns by a campaign group.
Gwent and north Wales forces can access personal mobile information, while Dyfed-Powys is trialling the practice used by 26 forces in Wales and England.
A senior officer said the method could be used to prove someone's innocence.
Privacy International has called for a wider debate and said search warrants should be needed to use the technology.
Det Supt Steve Corcoran from Gwent Police insisted there was "strict" guidelines on data extraction.
He said: "In Gwent, this would be carried out either with the consent of a victim or (alleged) offender wanting to prove their innocence, or in line with the relevant legislation to help with a serious criminal investigation or a safeguarding issue.
"Any information gained is strictly managed and is always justified and proportionate, tailored specifically to the incident concerned."
Both Dyfed-Powys and North Wales Police have been asked to comment. South Wales Police said it did not hold information on the use of such technology.
Privacy International is calling for a review of current practice and a public-awareness campaign.
Millie Graham Wood, a solicitor for the group, said requiring a search warrant for such information would ensure independent judicial oversight.
It found which forces were using the technology through Freedom of Information requests to 47 forces, of which 42 responded.
Technology allows officers to extract location data, conversations on encrypted apps, call logs, emails, text messages, passwords, internet searches and more.
It can be used on suspects, victims and witnesses and also allows downloading of deleted data, including messages sent to the phone by other people.
It has been trialled in Scotland but is not being used in Northern Ireland.
The National Police Chiefs Council said the decision to download phone data was a judgement that could be made on a case-by-case basis "defined by the investigative requirements of the case".
A Home Office spokesperson said: "The government is clear that the use of all police powers must be necessary, proportionate and lawful."