Hoots and howls after owl wedding gaffe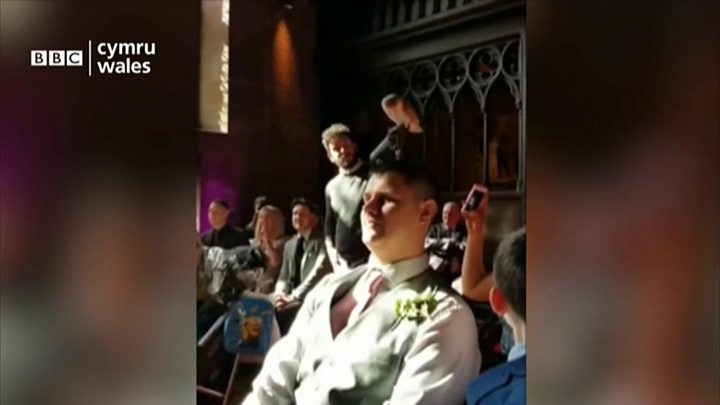 It was supposed to be the icing on the wedding cake - a majestic owl swooping in to deliver the all-important rings.
But fairytale nuptials ended with a best man set upon and floored - and guests erupting in laughter.
The scenes at Wrexham couple Jeni Arrowsmith and Mark Wood's wedding in Tarporley, Cheshire, were captured on camera and video.
"It was one of those moments I'll never forget," said wedding photographer Stacey Oliver.
She caught the moment the owl was released to fly to the waiting best man to retrieve the rings.
But chaos ensued, when another of the groom's best men seated in the front row pointed at the owl.
"The owl sees it as a sign to fly to the hand. The owl has just dived in and hit the guy - who is terrified of birds. [He] fell off his chair," Ms Oliver, who captured the exact moment on camera, told BBC Wales' Jason Mohammad Show.
"I just instantly knew what was going to happen, I could see it was going to happen."
But newly-wed bride Jeni said she and her husband both saw the funny side of events.
She said: "I was chuckling that much inside that my stomach was hurting.
"Everyone was absolutely hysterical."
So much, in fact, that the registrar carrying out the wedding at the Peckforton Castle venue had to ask the guests to calm down.
But the laughter continued after the ceremony.
"It made the wedding because we were all talking about it all night," said the bride, who has also been enjoying the surprise fame sparked by the incident.
"My phone hasn't stopped - I've had loads of people calling me. It's been wild," she added.