The Swansea couple who have fostered 1,000 children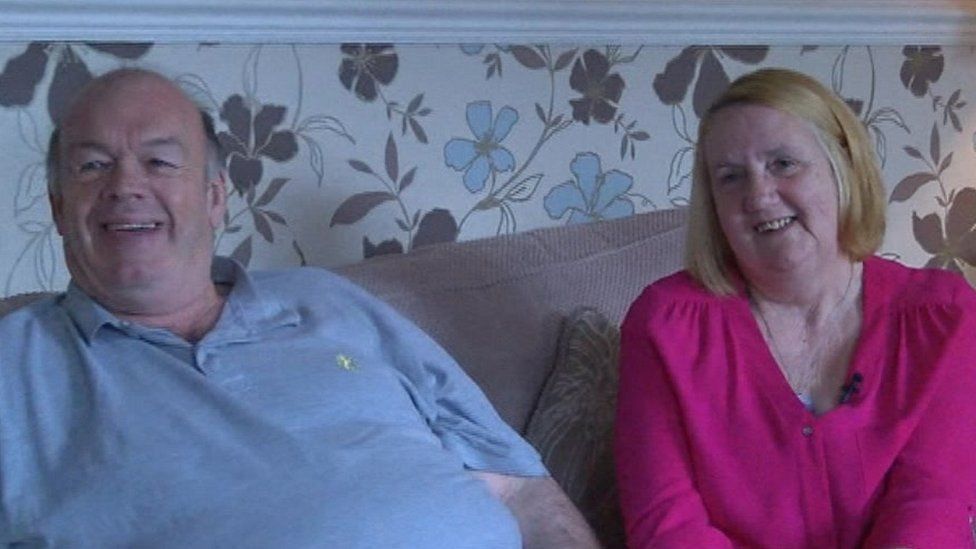 Wendy Taylor and her husband Steve have fostered more than 1,000 children since they took in their first child 34 years ago.
As charities call for all Welsh councils to exempt young people leaving care from paying council tax until they are 25, Wendy describes the challenges faced by her children as they leave home for an independent life at 18.
My husband Steve and I decided to foster children after we had our daughter, Becky, in 1984.
We were unable to have any more children but did not want her to be an only child - now she jokes she's been brought up with half of Swansea.
At the last count, we'd fostered 1,000 children and on the whole it's a rewarding job, although it can be very difficult as you're taking on other people's problems and trying to manage them.
There was a time in the 1990s when all my boys were involved in car crime - car theft, that sort of thing, which was quite prevalent in Swansea at the time.
Steve and I were in police stations and courts daily - we were on first name terms with the solicitors and they knew us well at Swansea Prison.
There is a bypass that goes behind our house and if the boys had stolen a car they would beep all along the bypass - I would hear it and know to expect a call about 20 minutes later from the police after they'd been arrested.
But that's when Steve and I would do a lot of our work to help those children.
When they were locked up in a police cell I would ask to go and sit in there with them.
We're talking about hardened criminals here, but at that point they would be at their most vulnerable - their defences would be down and they would just sit and put their head on my lap - that's when I felt I was really making a difference.
Not all made it out of that cycle okay. Sometimes I'm in Swansea shopping and I walk past a few familiar faces who are now homeless and live on the streets.
I have also lost about 20 children over the years - some through suicide, others through drugs - and that is sad. It devastates me.
They are just children who don't have a good start in life.
And that's why I think we need to do all we can to help these kids - and giving them one less bill to pay by exempting them from council tax when they first leave home would help.
We mainly take in teenagers and a lot of what I do is to try to equip them for life on their own when they leave us aged 18 or 19. Some choose to leave at 16 and they then go into supported lodgings.
Unlike most children, they do not have a mum or dad who they can turn to for help or money - they don't have the luxury of a mother at the end of a phone.
They have also been through a lot in their lives already - many are immature and struggle in school.
So I feel I have a lot to cram in to prepare them for living on their own at such a young age.
I usually start when they are about 15 with basic things like teaching them to do their own washing, to tidy up after themselves and to do their own shopping.
I give them £25 a week and with that they have to buy everything they need - toiletries, clothing, food... they have their own cupboard in the kitchen and an area in the fridge and freezer.
It takes a while for them to get to grips with it and I have to stay firm - it's thinking about tomorrow, not today.
A lot of them are keen to leave - they want to live on their own.
Initially when they do, they are put in a little studio flat - or a bedsit as I would call them - in a shared house owned by the local council.
But when the reality hits, we often get calls from them in tears saying they want to come back to us.
Your instinct is to mother them and at first I would find it hard. But now I know you have to hold firm.
Every child is different but facing the world as an adult can be very stressful and it's a shock for them.
Just grasping the concept of bills is hard. All of a sudden they are having to pay things like water rates and it's funny because they say to me "don't be silly, you don't pay for water, it comes out of a tap".
And they really don't understand council tax - it's really hard to explain it to them.
They might come from a background where maybe their parents didn't pay this stuff anyway - they would just move from place to place to avoid it.
They have been brought up to think you don't pay, you vanish.
Equally, many have come from a background where education isn't seen to be important so going to school and college can be very frightening for them.
But sometimes, when they are given an opportunity and a guiding hand, they can surprise you.
We have been so proud to see some of our children go on to college and make a good life for themselves.
We keep in touch with lots of them - you never know who will show up at Christmas time and that's lovely.
I must admit, I find it hard to remember all of their names - sometimes someone comes to the door and I recognise the face but just can't find a name, so I just say 'come in, come in' and get chatting and hope the name pops into my head.
I would say it's been a huge learning curve - I took in my first foster child when I was just 28 and he was 15 and I wasn't really old enough to be his mother. I was more like a sister.
But I've grown in confidence and learned a lot over the years - I used to feel threatened by their families, for example, but now I love working with them.
Our second foster child is 46 now - but I still call him my child - and he always comes for Sunday lunch. One of our other boys has just come out of prison, which I'm so pleased about.
I'm 61 now and I suppose I'm thinking of retiring in the next few years - Steve retired from his job on a youth offending team last year.
But I think I'll have to do it gradually - go down to two children at a time perhaps - because I know I will miss it all so much when it ends.
It's a lovely feeling having them all - I suppose it's a feeling of belonging.
It's a strange circle we have here, but it's our own little bubble and we love it.