Ira 'Taffy' Jones: One of RAF's most decorated fighter-aces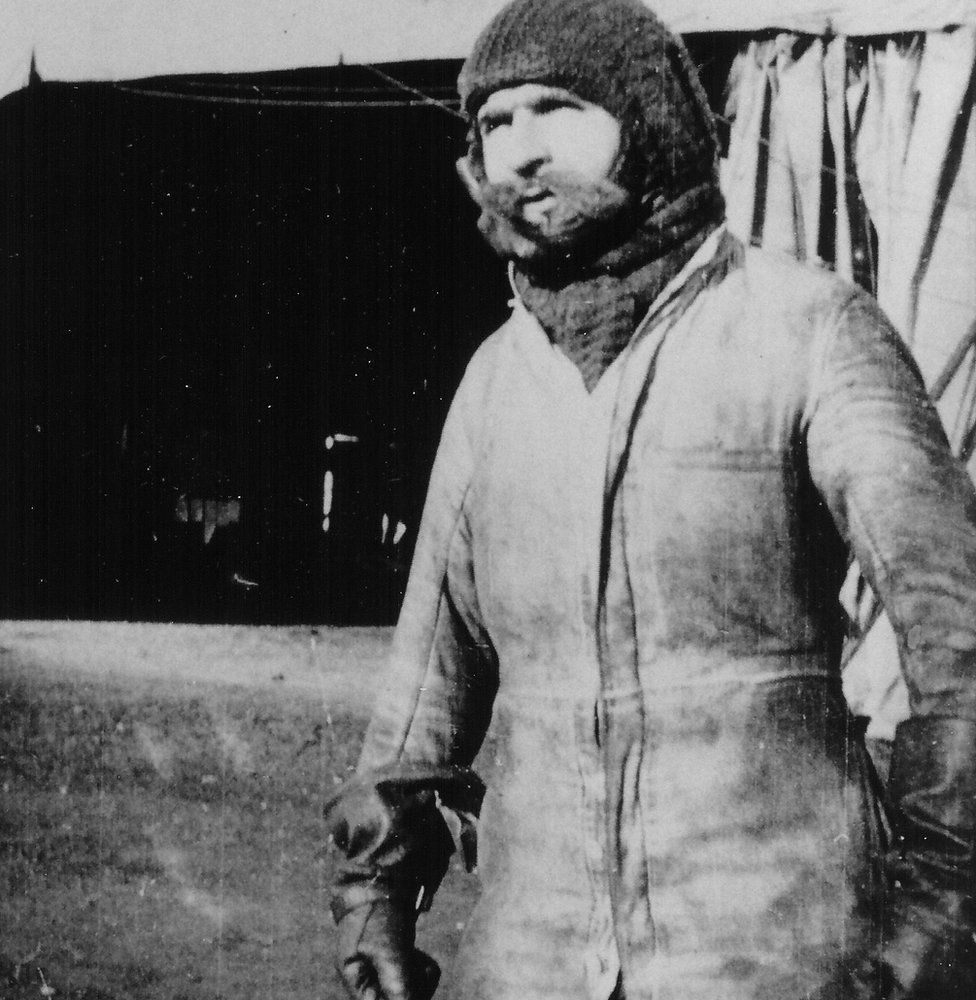 It was seven years before the first manned flight when James Ira Thomas "Taffy" Jones was born in St Clears, Carmarthenshire, on 18 April 1896. But the illegitimate son of a farm labourer would go on to become one of the most decorated fighter pilots in the RAF's 100-year history.
His career, which began as a 17-year-old in 1913, saw him earn 37 dogfight victories, and survive 28 crashes over the Western Front.
It all started when he won a place to study wireless engineering at the Army's Royal Flying Corps at Hendon aerodrome in London.
According to Byron Rogers, whose book Tiger Squadron tells his tale, it was here that Jones knew he was going to be a pilot.
He said: "I grew up with the stories of Taffy from my father and uncle who were in school with him. Even though he was only 5ft 4in and had a severe stutter, he was a force of nature.
"He'd barely started at Hendon when he was taken on his first flight. He described the sensation of people moving like ants below him, and wrote 'Please god let me do this for the rest of my life'."
Jones spent the first two years of World War One directing air traffic by radio from the trenches, but by 1916 he had progressed to flying as an observer.
According to military historian Dr Jonathan Hicks, the war in the air was changing, just at the right time for Taffy.
He said: "At the start of the war, planes were largely just seen as spotters for artillery, but gradually as their importance increased, they started to attack each other, often just with a pistol, or on occasions even with a rifle.
"Eventually they were fitted with machine guns, though they were incredibly difficult to use as you had to fly the plane with one hand and operate the machine gun with the other. Plus there was the risk of shooting off your own propellers.
"The invention of the interrupter gear was crucial, as that sequenced the gun with the propeller, allowing pilots to fire between the blades."
Unusually for someone from his background, Jones was commissioned from the ranks in 1917, and trained as a pilot just in time to become part of the new RAF's 74th Tiger Squadron on 1 April 1918.
After World War One he was given command of 74th Squadron, flying in operations over Russia and Iraq.
Semi-retired at the outbreak of World War Two, he trained pilots at RAF Porthcawl, where Taffy achieved possibly his most famous feat.
Having no available fighters, when the air raid siren sounded he took an unarmed Hawker Henley training plane and attacked a Junkers JU88 bomber over Swansea.
Armed with nothing but a flare gun, he forced the German pilot to abandon his bombing run.
Afterwards, in an audience with George VI, the King remarked: "You're too old for this sort of thing Taffy, it's a young man's game."
Though Mr Rogers believes Taffy's superiors were not as appreciative of his efforts.
He said: "As the war went on, Taffy increasingly felt he wasn't getting the recognition he deserved, and he began to drink heavily.
"This can't have been helped by what we'd almost certainly describe today as post-traumatic stress disorder.
"In one diary entry he describes waking from nightmares 22 times in a night, and having to tie the strings of his pyjamas to the bedpost to stop him thrashing around."
He died in 1960 after suffering a fall at his home and is buried at Cana Chapel yard in Bancyfelin, Carmarthenshire.