Storm Emma: Gwynedd beach rubbish uncovered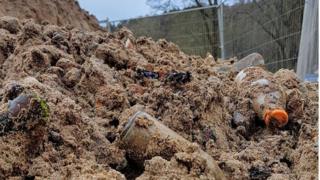 Tonnes of rubbish which had lain hidden under a north Wales beach has been discovered in the aftermath of Storm Emma.
Broken glass, burnt metal and rusty tins were uncovered at Llanbedrog Beach in Gwynedd after the storm washed away more than 2ft of sand.
It is believed the waste is from an old rubbish tip.
Conservationists have warned people not to go on the beach barefoot or let children play on it.
National Trust operations manager Andy Godber said: "We estimate about 250 tonnes of rubbish - mixed in with sand - has already been removed from the beach by machinery and a further 10 tonnes by hand.
"We suspect more may be uncovered by tides and the weather for some time to come.
"As such, we're urging visitors to be vigilant of the increased risk, especially of sharp edges and shards of glass."
The National Trust also said beach huts at Llanbedrog would not be returned to the shore in time for Easter.
The drop in the level of sand following Storm Emma has also happened at other beaches in the area, including Porthor, Tywyn y Fach and Porthdinllaen.