£1.5m lottery money to boost Wales' heritage projects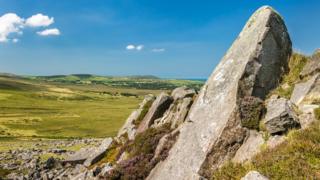 £1.5m of lottery money has been given to five projects to boost local economies through heritage projects.
The Great Place scheme aims to promote an area's history, increase tourism and provide education opportunities.
It is a UK-wide pilot scheme being run by the Heritage Lottery Fund.
Minister for Culture, Lord Elis-Thomas, said: "I look forward to seeing this programme contribute further to the good work I've witnessed across Wales."
The Heritage Lottery Fund said its project could help "create new networks and partnerships" aimed at making the most of the heritage and history across Wales.
Chairwoman Baroness Kay Andrews said: "Our Great Place programme will demonstrate how building on those strong roots can have a hugely positive impact on local economies in terms of health, employment and education, as well as instilling community cohesion and pride."
Making Waves - Barry, Vale of Glamorgan, £252,000
This project is building on regeneration work in the town over the past 18 months, looking at the story of Barry dating back to the 1880s when it supported the massive coal export docks.
Preseli Heartlands Communities - Pembrokeshire, £218,000
Focusing on west Wales' rural past, the scheme is trying to get more people involved in their heritage in order to increase tourism.
Imagine - Colwyn Bay, Conwy, £400,000
Money will be spent supporting the creative industries, including developing an academy for engineers, historians, architects, artists, poets and film makers, among others.
Your Heritage, Your Opportunity, Your Place - Llanelli, Carmarthenshire, £200,500
A 23-month project aimed at highlighting the town's industrial past as the regeneration of the area continues.
LleCHI - Gwynedd, £362,000
As part of Gwynedd council's effort to get World Heritage status for the slate mining areas of north Wales, LleCHI wants to promote this past and its impact on the Welsh language, arts, social care and education in the region.