US-based IS plotter funded by Welsh firms gets 20 years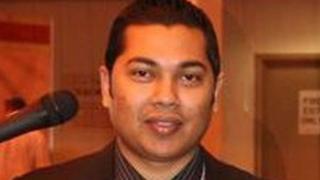 A businessman who accepted payments from Cardiff firms to fund a terrorist attack in the US has been sentenced to 20 years in prison.
Mohammed Elshinawy, 33, admitted accepting overseas payments to plan and help carry out a so-called Islamic State attack, at a court in Maryland.
FBI documents revealed Pontypridd businessman Siful Sujan financed IS plots across the Atlantic.
He died in a US-led air strike near Raqqah in December 2015.
Bangladesh-born Sujan, 31, left Wales in July 2014 for Syria, where he became a computer hacker for IS.
Following his death, a Pentagon spokesman was quoted as saying "ISIL [another name for IS] has lost a key link between networks".
Sujan allegedly used some of his south Wales companies to send military-grade surveillance equipment to Spain and to an address in Turkey close to the Syrian border, and to transfer funding to an IS supporter in the US.
FBI documents revealing the links were released following a court case in Baltimore, Maryland, in August 2017.
Elshinawy, 33, previously pleaded guilty to accepting payments from overseas to plan and help carry out a terrorist attack in the US, as well as three other terrorism-related charges.
Information published on the Maryland Attorney's website on 30 March, states that between February and December 2015, he conspired with others to provide material and resources to IS, including personnel, communication and financial services.
The attorney's office said Elshinawy described himself as a "soldier, committed to making violent jihad" and he received £6,207 (US$8,700) from a UK-based company, believed to belong to Sujan, to fund a terrorist attack.
He was sentenced to 20 years in prison followed by 15 years of supervised release.