'Punish a Muslim' scorned by Grangetown community
By Gwyneth Rees
BBC News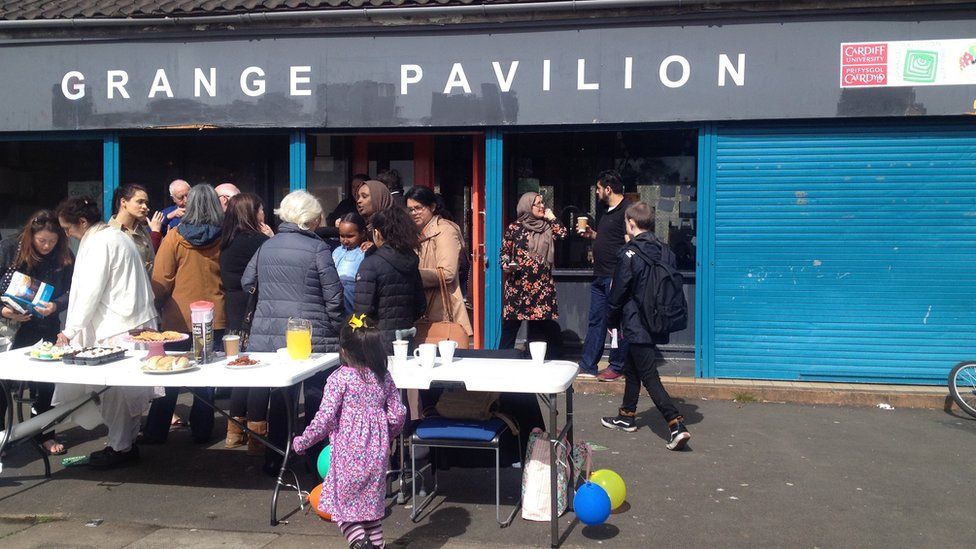 Three weeks ago, letters urging people to "Punish a Muslim" on 3 April arrived in homes in Bradford, Leicester, London, Cardiff and Sheffield.
It sparked fears of violence with some Muslim people being too scared to leave home.
But when one Cardiff man heard how scared his young children were, he worked with his community to "reclaim 3 April from hatred".
Moseem Suleman helped to hastily arrange a social event in the Grangetown area of Cardiff.
He said: "Today is my brother's birthday. It should be joyous occasion. But it became a day my young children were afraid of.
"They had heard bad things might happen to them. It is all they could talk about on their way home from school and it made me so sad."
Some other stories that might interest you:
Mr Suleman and other members of Grangetown took less than three weeks to put on a day named Cardiff Together: One Love.
So on Tuesday, Grange Gardens was filled with the sound of laugher and idle chat.
Families sprawled on blankets on the damp grass, enjoying a mismatched picnic of onion bhajis and cupcakes.
Children thumped a football back and forth, while teenagers huddled in groups, scrolling on their mobile phones and giggling.
"I did not want them to remember this day of fear," Mr Suleman told the crowd.
"I wanted them to have happy memories. And because of this event, now they do."
To any passing onlooker, it would appear a normal, relaxed scene of togetherness in one of Cardiff's most diverse communities.
Yet it was organised in response to an ominous threat - a so-called Punish A Muslim day that had spread across the UK via social media.
The planned day - sparked by hate mail sent to individuals in Bradford, Leicester, London, Cardiff and Sheffield - has left many Muslim people too scared to leave their homes for fear of being attacked, with women particularly worried they might have their hijab torn off on the street.
But at the Hideout Café, the day has been used as an incentive to bring people together in defiance.
For Mariyah Zaman, 19, a media student at Cardiff Metropolitan University, the day is a symptom of the growing anti-Muslim sentiment she feels is sweeping across the UK and Europe.
She said: "As horrific as it is, when I first heard about the Punish a Muslim Day, I wasn't surprised.
"Islamophobia has become normalised - especially against women who are visibly Muslim.
"It's not just in the street; it is present in institutions and work places. Muslims face stigmatisation every day.
"People need to be educated and equipped with the right information. The biggest cause of Islamophobia is a lack of awareness and an irrational fear."
It is a view Ali Abdi, 30, agrees with.
A local community activist who has lived in Grangetown all his life, he dedicates much of his spare time to trying to improve the area.
He said: "This area has fabulous cohesion and a great history of it.
"So my message today is that, in the face of division and hatred, as a community we carry on.
"No one is born to hate another person. People are taught it, and anything that is taught can also be untaught."
The event - "Cardiff together: One love" - was organised by the Cardiff working group of Muslim Engagement and Development (MEND) - a national organisation which seeks to empower British Muslims - along with the Muslim Council of Wales.
But it has also been supported by other faith groups.
When invited to address the crowd over the microphone, Aled Edwards, secretary of the Interfaith Council for Wales and himself a Christian, said: "The friendship and dialogue between the faith communities in Cardiff and Wales is very strong.
"If one of communities is persecuted in this way, we come together very quickly.
"Tomorrow it might be Jews who are attacked or Hindus or Christians.
"We use it as an excuse to renew our friendship and stand together.
But for Yasmin Khan, of Cyncoed, Cardiff, the low turnout of local Grangetown Muslims showed the level of fear the community still have.
Waving her arm at the surrounding terrace houses, she said: "This whole area is full of Muslims.
"But I have spoken to them, and they are too frightened of being attacked, so they haven't come.
"Even some mosques have said 'don't go out'.
"My view is that this is not right. We have to live harmoniously. We can't just be frightened and made to stay in the house."
Perhaps those who best sum up the day are two teenage girls - a Muslim and non-Muslim - who live over the road from each other and have bonded playing football on the community pitch.
Kicking a ball back and forth between themselves, one said: "The Punish a Muslim Day is just so dumb.
"Why do Muslims get blamed for all the terrorism and bad things that happen?"
Her friend - dressed in a headscarf, jeans and trainers - nods in agreement.
"It's true," she said, curling a ball to her friend's feet. "We're taught in school not to judge people on how they look.
"You have to get to know them first. Adults need to learn that. It's 2018, after all. Not 1800."