'Attack' on HMP Berwyn guards prompts pepper spray call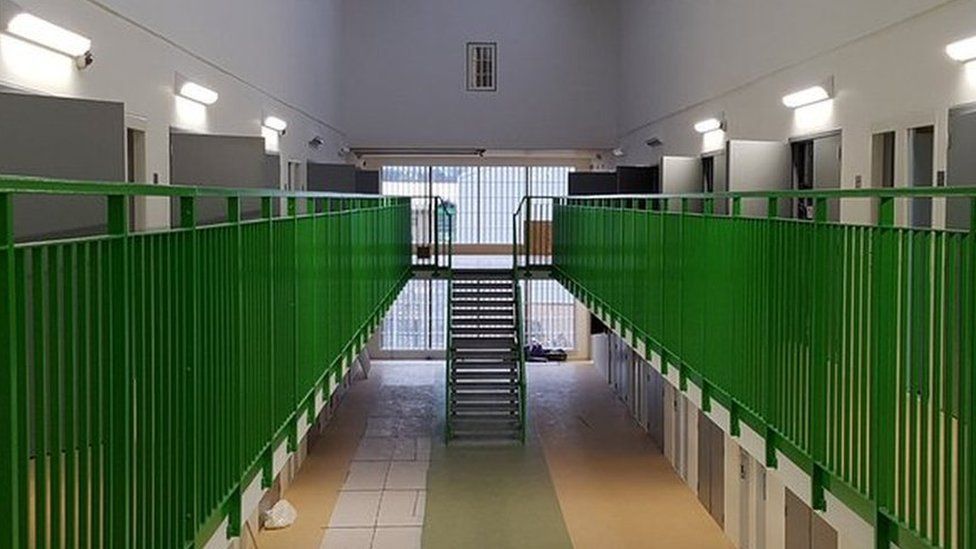 Union officials have called for a national roll-out of a pepper spray-like canister for all prison guards following a "major incident" Wrexham's new super-prison.
Two prison officers needed hospital treatment following an alleged attack at HMP Berwyn on 1 April.
One guard is said to have suffered "severe facial injuries".
North Wales Police attended the category C prison amid reports of unrest.
Mark Fairhurst, chairman of the Prison Officers' Association, said a pilot scheme of "Pava" spray is currently ongoing at four jails.
He said: "There has been a reduction in the number of attacks at these four jails. And the incident in HMP Berwyn at weekend further shows why there need to be a national roll out of Pava for prison officers."
Mr Fairhurst said one of the guards remained in hospital with "serious injuries" to his face, while the other has since been released.
A spokeswoman for North Wales Police said: "We are investigating the assault of two prison officers at HMP Berwyn. The incident was reported at 7.10pm on 1 April."
Safety report 'due in summer'
The Ministry of Justice warned it did not tolerate violence in its prisons and "always pushed for the strongest possible penalties for those involved".
The day before the trouble, a 22-year-old inmate was found dead at Berwyn. The two incidents are not linked.
A spokeswoman for the Independent Monitoring Boards for prisons said the Berwyn board would "closely monitor the prison's response".
She added: "The board will not comment on the death in custody as an inquest has yet to be undertaken. They will however be reporting on safety at Berwyn in their annual report in June."
The £250m Category C jail opened in February 2017 and is the second largest in Europe.