March new car sales drop by 19.5% in Wales year-on-year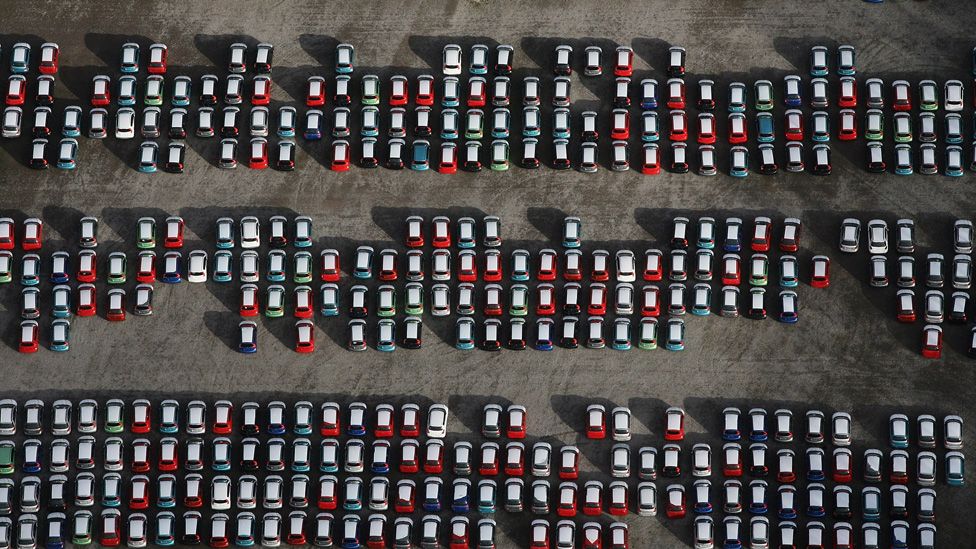 Latest new car sales figures for Wales show they fell by 19.5% in March, compared to a year before.
Car sales are a significant barometer of the economy with automotive firms employing 18,000 people in Wales with new registration plates released in March and September each year.
Across the first three months of 2018, car sales in Wales dropped 14.54 % compared to the first quarter of 2017.
March is the biggest month for the Society for Motor Manufacturers and Traders (SMMT) as it shows how sales of the new registration plates have gone.
But it must be noted that in March 2017 sales were at a record high - ahead of a change in Vehicle Excise Duty the following month.
Mike Hawes, chief executive of the SMMT, said March 2017 had been an "absolute bumper month" and despite some decline in economic confidence, the last month was still the fourth best March they have had.
"It's not all doom and gloom," he told BBC Radio Wales.
"The industry is facing a huge amount of change over the next few years - you're seeing the advent of electric vehicles, plug-in hybrids, hydrogen vehicles, so there are changes in the way vehicles are powered, the way they're made.
"The technology is evolving rapidly and will offer significant benefits in environmental and safety terms but this is going to be incremental - it will take time but you are already seeing those technologies coming to the market."
The UK figures showed new car sales fell for the first time in six years in 2017, with a 5.7% decrease to about 2.5m vehicles.
The Welsh automotive sector generates £3.2bn a year and employees earn between them £500m a year in Wales, which is largely spent within the wider economy.
You might like these stories too:
Wales has 40 international automotive companies as well as 100 smaller suppliers.
One of them is GSM Automotive in Brecon, which employs 130 people making interiors for car-makers such as Jaguar.
Andrew Farthing, chief executive, said the decline in car sales was more than they had anticipated and said it was due to Brexit uncertainty and also issues around diesel car emissions and air quality policies.
Demand for diesel cars dropped by 17% last year.
"Some people out there don't know where the economy is going and that's leading to a crisis in confidence," said Mr Farthing.
"I'm sure there are people out there like ourselves out there who are extremely concerned - we will continue to look at the market over the forthcoming 12 months."
However, the Unite union said there was still "a cloud hanging over" Vauxhall's Ellesmere Port plant, which employs 1,300 people.