Cardiff teen goes to Germany for scoliosis surgery on spine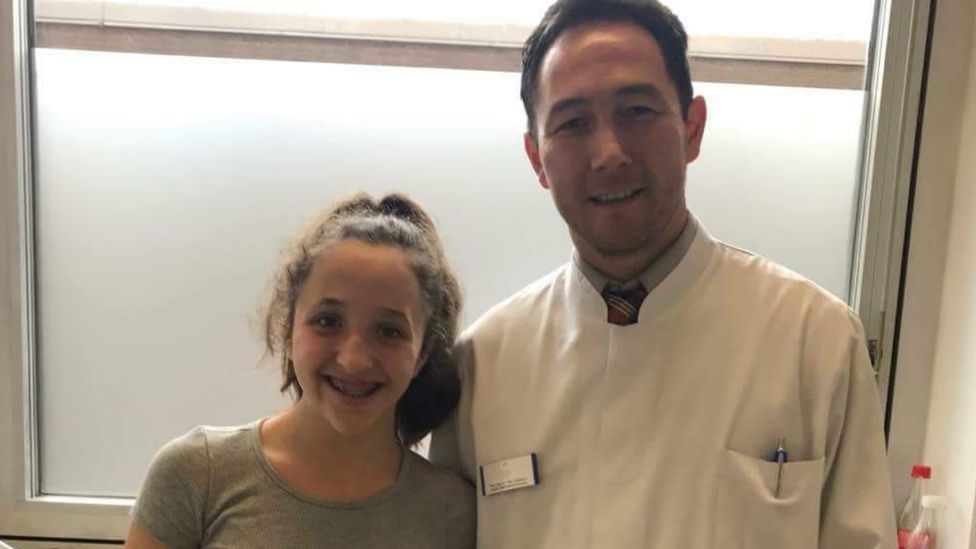 A teenage runner and gymnast will travel to Germany on Saturday for ground breaking spinal surgery which is not yet available on the NHS.
Erin Morgan-Ring, 14, from Heath, in Cardiff, has been diagnosed with scoliosis, which means her spine twists and curves to the side.
She is the third Welsh child to travel abroad for the operation in a year.
The Welsh Government said NICE would assess any new evidence that supports introducing it on the NHS.
Meanwhile, all three Welsh families have had to raise thousands of pounds to pay for the treatment.
The most common surgery available in the UK, known as full fusion surgery, sees metal screws attached to the vertebrae which are then connected to rods to try to correct the curve.
Erin's mother, Ceri Morgan, said her daughter would be forced to give up competitive sport if she opted for the NHS procedure, as experts concede it can leave patients with a more limited range of movement.
The family found out a new operation called Vertebral Body Tethering (VBT) was being offered by surgeons in the US and Germany - which uses screws and cord to correct the spinal curvature.
Experts say the keyhole surgery is less invasive and patients retain greater mobility.
The procedure has only been around for 10 years and is limited to teenagers and young people.
About 1,000 patients have been operated on during that time, but it is not approved by the NHS.
Ms Morgan said she noticed something was not quite right with Erin's spine during a holiday in 2016.
"She was in a bikini and I just noticed that she wasn't standing straight, when we came back we went straight to the doctor and were referred," she said.
Doctors diagnosed scoliosis after seeing X-rays of Erin's spine.
Full fusion surgery was offered by the NHS, but Ms Morgan heard about VBT which it is hoped will allow Erin to return to gymnastics, running and riding.
The family made contact with VBT expert Dr Per Trobisch at the St Brigida Hospital in Simmerath, Germany, and he agreed to carry out the procedure.
Ms Morgan said: "Erin literally did a back flip in his office."
Erin's family have been fundraising to secure the £42,000 needed to pay for the operation and Wales rugby player Sam Warburton and footballer Gareth Bale, are among those to donate items for auction to help raise money.
Dr Trobisch said he was convinced VBT surgery would become part of NHS treatment for selected patients but said it could take a few years to collect data to support its capabilities.
But he added: "It is important to know that VBT is not suitable for every scoliosis patient. Ideal patients are those who have residual spinal growth and a flexible scoliosis.
"Therefore, time is an important factor. Once a scoliosis with more than 40 degrees has been diagnosed, consulting a scoliosis expert should be arranged as soon as possible."
In August last year, 14-year-old Emiah Ellis, from Brynna, Rhondda Cynon Taff, travelled to the same hospital in Germany for VBT surgery and was back at school within six weeks.
Her mother Menna Garland-Ellis, said: "It's amazing, she can do everything she did before, she doesn't have any pain, we're very happy."
Ten-year-old Megan Sadler, from Pembroke, travelled to the US for the operation last May. Her mother Laura said: "She's doing great, you would never know she's had the surgery."
Only a small number of studies about the results of VBT have been published so far.
Experts say the failure rate of the procedure is less than 10% and patients whose treatment fails can be offered traditional spinal fusion.
A Welsh Government spokesman said VBT was not routinely commissioned by the NHS, but the National Institute of Health and Care Excellence (NICE) guidance would assess new evidence that may come to light in support of the procedure.
Nikul Bakshi, from the British Scoliosis Research Foundation, added: "There are currently no long-term results for VBT although early results in the US and UK look promising.
"As with many new treatments, there is currently a lot of patient, family and social media interest. However there are still a number of checks and balances which will be considered by bodies such as NICE."