Seagulls 'terrorise' Cardiff streets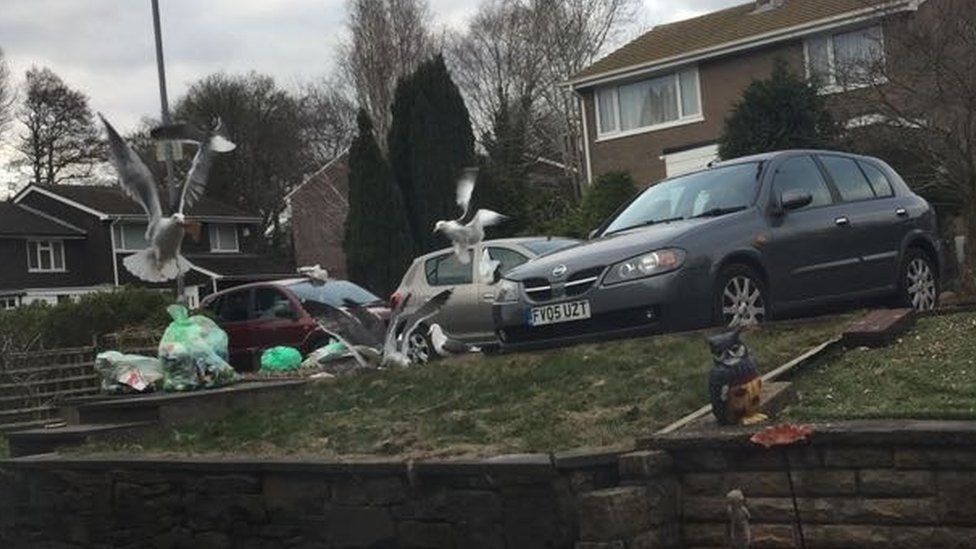 Residents of "seagull-plagued" streets in Cardiff say their homes should be given the same protection from the birds as businesses.
Cyncoed locals claim aggressive seagulls are "terrorising" the area by ripping open recycling bags and attacking postal staff.
Cardiff council said it had no legal duty to control the gull population.
Residents say an egg removal scheme available for city businesses should be offered to homes.
People living in Farm Drive and Coed-Y-Llyn say they have been dealing with the problem for more than a decade.
Moya Campbell said her car was devalued by £100 due to markings left by the gulls.
She said: "They attack everything. If you go out when they are nesting they are terrible. The noise is horrendous.
"The council should remove the seagull eggs from the area."
Some locals say they have to arm themselves with umbrellas when leaving their homes and recycling waste is strewn across the street by gulls tearing into bags.
Cardiff council said it has given advice to residents about deterring the birds from breeding in the area.
A spokesman said: "All seagulls are protected species in the UK through the Wildlife and Countryside Act 1981 and there isn't any statutory duty on the council to manage their population.
"Using a specific license issued by Natural Resources Wales, the council does have a licence to replace real eggs with plastic imitation eggs. This service is available for commercial customers and used mainly on flat roofs.
"If homeowners would like to take measures to stop nesting gulls on the roof of their house, then they are able to take action themselves or hire a pest control company to put measures in place."
Councillor Bablin Molik said the council could be more proactive.
She said: "I would like services offered to residents where there's a high concentration of seagulls."