Jigs and wigs: Wales' brightest Irish dancing stars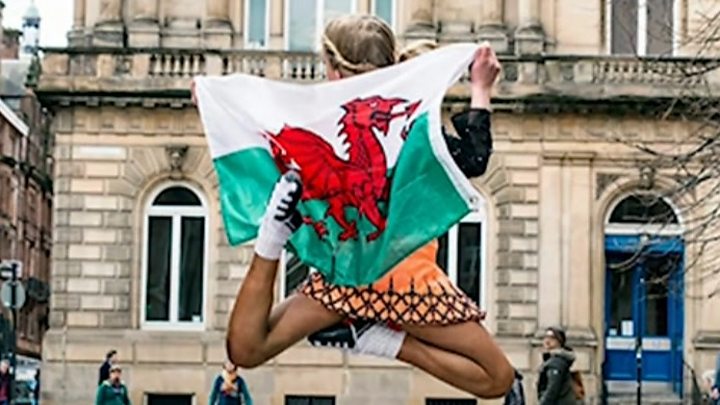 It was more than 20 years ago since Irish dance began taking the world by storm.
Riverdance was performed during the 1994 Eurovision Song Contest in Dublin, and spin-off shows such as Michael Flatley's Lord of the Dance, began touring the globe to huge acclaim.
Yet the presence of Irish dance in Wales has remained low-key and somewhat niche.
Just a handful of dance schools exist across the country, while the number who compete at a professional standard is in single digits.
But two young sisters, Ffion and Abigael Elson, aged 12 and 10, are hoping to change that, drawing attention to the sport by competing at an international level.
The Cardiff youngsters are both preliminary champions and compete in open championships - the highest level of competitive Irish dancing.
In February, they competed at an international major in Killarney, Ireland, bringing home two medals.
And last month, Ffion competed in the World Championships in Glasgow, ranking her in the top 1% of dancers in the world for her age group.
Ffion, who one day wants to perform with a dance touring company, said: "I love the feeling of dancing on stage.
"To someone watching, it might look like we are just kicking our legs around, but we're not. We are really connected to the music and rhythm."
Abigael added: "It's not easy to learn the steps, so working hard and being able to see how much we progress is great."
A traditional dance form, Irish dancing is characterised by a rigid upper body combined with complicated footwork on the high balls of the feet.
Dancers train in hard, clog-like shoes and also soft pumps, and can often practice for hours a day.
Ffion said: "I like the fact it's so varied. I love the intricate movements, like when you rock your feet back and forth, but Abigael prefers the high kicks and leaping up and down.
"The birdie is great - you leap with one leg in front and one behind, so it feels like you are flying. It makes you feel alive."
It's likely the girls' love of dancing comes from their Irish heritage, with grandparents hailing from New Ross, County Wexford.
Although their mother Sandra, 45, danced only briefly in her youth, when Ffion was five, she saw a documentary about Irish dancing on TV and asked to try.
The sisters are now part of the O'Donnell Maguire School of Irish Dance, which holds classes in both Newport and Cardiff, and have gone on to thrive.
The school has about 50 dancers - nearly all girls, with a smattering of boys - but only a handful who compete regularly, due to the long distances involved.
Another dancer from the school, Erin Flaherty, also competed in the under 18 category of the World Championships.
Sandra Elson, who tracks the sport on Instagram, said: "The competitions are intense and always a long way away.
"It's a bit strange. The dancers have to spray-tan their legs to give them definition, and wear wigs to save spending hours doing their hair.
"Competitors come from all over the world, like America, Australia, South Africa and Japan, but the Irish still dominate."
Despite being committed, the world of competing has not always been plain sailing for the Elson family.
A steep learning curve in terms of organisation, Sandra admits Ffion did once have to compete in different sized shoes.
Her wig and tiara have also fallen off mid dance, and she once nearly tumbled off stage after catching her feet on some loose flooring.
But these are small hiccups in the girls' journeys, with both sisters training hard to qualify for next year's world championships in Greensboro, North Carolina.
As for the future of Irish dancing in Wales, Sandra hopes the success of her children and others like Erin will help raise its profile.
She said: "It's a very physical sport, and requires great strength and stamina. But it is also great fun and very sociable.
"It was a huge lift to see two girls from Wales in the World Championships.
"The sport is massive across the world, especially in places with a strong Irish diaspora, so there is no reason why it shouldn't be popular here."