Otto Putland trial: 'Woman raped' after sex with swimmer's friend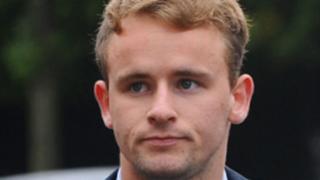 A woman allegedly raped by a Commonwealth Games swimmer has told a court he came into the room and started undressing after she had sex with his friend.
Otto Putland, 24, who represented Wales at the 2014 games, is accused of raping the woman after a night out in Cardiff.
Cardiff Crown Court heard that Mr Putland went into the bedroom after the woman had slept with Olympic swimmer Ieuan Lloyd.
Mr Putland denies the charge.
In a video-recorded interview played to jurors, the woman said she met Mr Lloyd, whom she had known for about a year, in a nightclub in the city in July 2015.
The pair spent most of the evening together before going back to his home.
She said: "We left his friend (Mr Putland) in the club with another girl. Once we got back to Ieuan's house we had sex."
The woman said Mr Lloyd then got up and went out of the bedroom, leaving the door open, and that she could hear him talking to the defendant.
Mr Putland then came and sat on the bed and started taking off his shoes, the court heard.
"When he started taking off his clothes that's when I texted my friend saying 'help something might happen'.
"Ieuan closed the door and he left me and Otto."
The woman said Mr Putland started taking his clothes off while she was lying on the bed. Jurors heard she was wearing a skirt and top but no underwear.
The complainant, who cannot be named for legal reasons, said she told Mr Putland "you can't pass me around".
She added: "I told him I didn't want to have sex with him and he continued trying to kiss me."
The woman said Mr Putland then removed his boxer shorts before putting on a condom.
The court heard Mr Putland stopped after she told him she needed the toilet.
Memory loss
While in the bathroom, she rang her friends and said the next thing she remembered was hearing her phone ring and being back in the bed with Mr Putland on top of her again.
The court heard that the woman's friends then arrived at the address and left with her in a taxi.
The woman saw a forensic doctor two days later but did not report the matter to police until November 2016, initially saying she did not want her mother to know what had happened.
She said she was "really drunk" and had had quite a lot to drink when she left the club with Mr Lloyd, but she knew what she was doing.
Defending Mr Putland, Christopher Rees asked the woman about the reliability of her memory.
She told the court she could remember most of the night, apart from what happened when she came out of the bathroom.
Mr Rees also asked: "He says 'do you want me to put a condom on?' and you didn't tell him 'no' and you didn't tell him you didn't want sex?"
The woman replied: "Not at that point."
Mr Putland, of Dinedor, near Hereford, denies one count of rape.
The trial continues.