Commonwealth Games: How Anglesey's Gareth Evans struck gold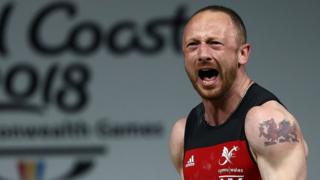 Curled up in a ball in a sports hall in Australia, Welsh weightlifter Gareth Evans looked like a man crippled with nerves.
Moments earlier, the 31-year-old powerhouse hoisted 299kg (47st) above his shoulders and was within touching distance of claiming his first-ever Commonwealth Games gold medal.
But with one competitor still left to go, an anxious wait ensued.
If the minutes leading up to the final lift seemed hours for Evans, they were more like an age for his parents Debbie and Steve who were thousands of miles away back home in Holyhead.
Sat on the edge of their seats, they were being drip-fed information about their son's progress by text message from trainer Ray Williams.
"The tension built with every message," said Debbie. "We were overjoyed when we found out he had got at least a silver medal, but the wait between that last message and learning he had won gold seemed to go on forever.
"The second it came in, we were crying our eyes out in joy. He'd worked so hard for it."
Given the win had been more than 15 years in the making, the explosion of joy at home in Anglesey and on the Australian Gold Coast was more than understandable.
Evans - known to friends as "Gaz" - got into weightlifting about the age of 12 while an aspiring gymnast.
In a bid to improve his muscle strength, the Holyhead High School pupil tried his hand at weightlifting and soon found a passion as well as a talent for it.
While Evans put plenty of hours in the gym, his parents put plenty of miles on the clock of their family car to take him to competitions and training sessions far and wide.
"Once or twice a month we would drive him to Derby where he had special training sessions with (former British weightlifting champion) Cyril Martin," added ambulance service worker Debbie.
"He would give his all and as soon as we would get in the car to go home he would be fast asleep.
"Gareth had a talent for weightlifting but also showed plenty of commitment too".
Evans - a previous winner of the Britain's Strongest Schoolboy - continued to wrack up wins into adulthood.
After training as a painter and decorator, he then gave up his job to prepare for the London 2012 Olympic Games.
While his debut Olympics performance did not yield any medals, The Holyhead Weightlifting Club product's performance saw him achieve a then new personal best of 288kgs (45st).
However, his hopes of competing at Rio four years later were dashed following injury.
Disappointed though not despondent, Evans kicked on and dug deep.
After landing a full-time job as a sports assistant at Bangor University, Evans often turned up early to put a shift in the gym ahead of clocking on to the day job - something which impressed the facility's health and fitness manager David Jones.
Mr Jones, 58, said: "I've known Gareth for a long time as his mother worked with my wife at the local hospital. He's always been down-to-earth and also very driven.
"We were thrilled when he started working here, not just because it meant we had an athlete of such a high calibre on our books, but because he's great at giving advice and motivation to weightlifters coming through the ranks.
"He's really well thought of, we were all overcome with emotion and pride when he won the gold."
But the explosion of elation was perhaps best shown by Evans himself.
Moments after claiming the gold in the 69kg (10.8st) weight class, the father-of-one ran around the Carrara Sports and Leisure Centre like an excited child at Christmas. Proudly clutching a Welsh flag, Evans then hoisted trainer Ray Williams in the air like a trophy.
Speaking afterwards, while wearing a football shirt of his beloved Wrexham FC, he said: "It was hard not to get a bit teary, if I'm being completely honest. Like every Welshman, I'm ridiculously proud.
"To stand up there with the gold medal is special.
"I dread to think what's going on at my mum and dad's house at the moment."