Tata Steel merger delayed due to staff negotiations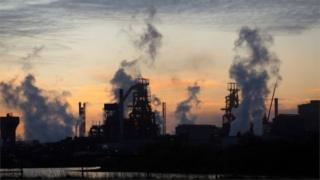 The merger between Tata Steel and German company Thyssenkrupp will be delayed because of negotiations with Tata's UK and Dutch workers.
Boards at both companies were expected to decide on the venture by the end of June, Thyssenkrupp said.
Tata employs 7,000 people across Wales including at Shotton and the UK's biggest steelworks, Port Talbot.
The companies have argued that a merger would make would make them more competitive and efficient.
Both face a challenging world market where the production of steel far outstrips demand.
While negotiations continue between Tata and unions, Thyssenkrupp has already secured the approval from German workers on conditions that pave the way for the merger.
Thyssenkrupp and Tata agreed in principle in September to combine their European steel activities, creating the continent's second-largest steelmaker after ArcelorMittal.
They had previously aimed to sign the deal at the beginning of 2018.
A Tata spokesman said: "We continue to be in a period of due diligence with Thyssenkrupp over a proposed joint venture."