Castle pioneers waste-water heat capture technology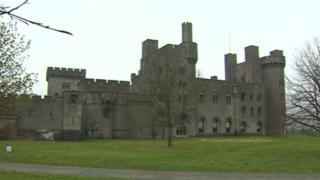 A Welsh castle is set to pioneer new technology which sucks heat from water as it is flushed down the drain.
The aim is to cut energy bills and carbon emissions at National Trust's Penrhyn Castle in Gwynedd.
It will be used to warm up water coming in to the property's tearoom, which attracts tens of thousands of visitors each year.
Those behind the project say if it is successful it could be replicated in schools, hospitals and homes.
The 19th-century neo-gothic Norman castle, near Bangor, is the largest National Trust property in Wales and the third most-expensive to keep in the UK.
It has a cafe, railway museum and more than a 100 rooms, requiring around 1.3m litres of water a year.
For the past 18 months, staff have worked with scientists from Bangor University and Trinity College Dublin to monitor it water use.
Funded by a £50,000 EU grant, the project found there was potential to harvest heat from what was being flushed away directly beneath the castle's tearoom.
Waste water runs down a pipe from the kitchen - which has several sinks, industrial dishwashers and sterilisers - to a cellar, and then out of the building to a septic tank.
In a laboratory, the team has been trialling different ways of using the waste pipe in the cellar to warm water coming into the building.
These included bringing water in through the pipe, taking the warm water out, running the waste pipe through a water tank or a combination of both.
Researchers are now considering whether adding a heat pump would be cost-effective. This would use electricity to power a heat exchanger and could suck up even more energy - up to 40% of what is usually lost.
Warming the water before it enters the castle would mean it is then quicker and cheaper to turn it into hot water for taps, kitchen appliances and radiators.
With the testing nearly done, it is hoped the new system will be installed at Penrhyn Castle "within the next few weeks", said Keith Jones, National Trust Wales' environmental adviser.
"So much is lost down the drain when we flush hot water away. How do we get that back? That's what this project is all about," Mr Jones said.
The National Trust has said the project could be rolled out to its other historic buildings across the UK, if it is successful.
Dr Prysor Williams, senior lecturer in environmental management at Bangor University, said the concept could be replicated further afield too, to cut the use of heating systems reliant on oil and gas.
He said: "If you think about our communities we have some very big users of water - hospitals, schools, big hotels and so on.
"So the potential for the findings of this project to be extrapolated much more widely is quite exciting."
Phill Tuxford from Detectronic, which supplied the equipment used for monitoring, said the scheme had "the potential to influence water companies everywhere" too.
The property has already sought to "decarbonise" its energy use - switching from an oil-fired heating system to a biomass boiler two years ago, while solar panels generate 25% of its electricity.