Police use unmarked HGV to catch dangerous drivers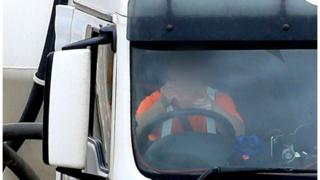 Police forces in Wales are using an unmarked HGV to catch dangerous drivers.
The Operation Tramline lorry started being used in England three years ago and will now also tour Wales.
The speed of the police HGV is not limited and it has also been fitted with flashing lights.
Police say being higher up in a truck cab gives officers a "different perspective" to spot and record video of potentially dangerous drivers.
You might also be interested in:
The Operation Tramline HGV will target hazardous driving and people committing motoring offences including:
Dangerous driving in commercial vehicles, including HGVs.
Texting, using mobile devices or streaming while driving.
People not wearing seat belts.
Dangerous or careless driving.
Operation Tramline co-ordinator Insp Steve Davies, from South Wales Police, said the "supercab" would patrol the motorway and main trunk roads across Wales.
It would pull up alongside vehicles which would then be pulled over by police cars following behind.
"We find that the vast majority of drivers are sensible behind the wheel but some are putting themselves and others at risk, therefore Operation Tramline will be a welcome addition to our officers' daily work," he said.
The unmarked lorry pilot is being run in partnership with the GoSafe campaign.
It is spending around two weeks in Wales, split between the four police forces.
It follows last year's launch of GoSafe's Operation Snap allowing road users to send in footage of dangerous driving captured on dashcams.
Since November, it has resulted in formal warnings to more than 70 drivers and notices of intended prosecution issued to another 118.