Cardiff doctor's medical help to Basra via the web bid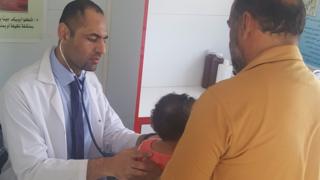 A Cardiff doctor is hoping to give medical advice to people in Iraq from his surgery in Wales via the internet.
Dr Laith Al Rubaiy, who is originally from Iraq, recently helped treat displaced families on the outskirts of Basra.
The doctor who is based at the University Hospital of Wales, specialises in gastroenterology and hepatology.
He is working with Iraq officials to try and set up the system.
Dr Laith Al Rubaiy, who also teaches at Swansea University, has worked in Wales for more than a decade after graduating from Basra medical school in 2003.
He worked in Alrumalia where families fled during the conflict when the country's regime was overthrown 15 years ago.
He said there had been improvements but there was still more to do.
"I'm more optimistic," said Dr Al Rubaiy.
His visit included delivering medical support to people living in areas without local access to a main hospital or primary care facilities.
As well as providing child health vaccinations, a lot of the workload involved treating chest infections, diarrhoea and infectious diseases, partly due to insanitary conditions, he said.
The mobile unit toured local communities with a nurse and doctor providing help to residents.
In Basra, he said hospitals were well equipped and staffed but that the issue was maintaining continuity in services due to an inconsistent electricity supply and issues with equipment maintenance.
"Everyone is trying their best to overcome these obstacles," said Dr Al Rubaiy.
"When I left Basra in 2005, there was a huge gap in medical education, but the gap has narrowed. I am very optimistic."
He plans to return to Iraq with more medics and supplies if he can raise the necessary funds. His brother, Dr Ali Kadhim, manages the mobile health clinic.
His trip was supported by the UK-based international charity AMAR, which runs the mobile clinic, and he was also invited by the Iraqi Medical Association to give lectures to medical staff.